By Laurie Stroupe
I've been packing for Convention for quite a while now, but since my last show before Convention is finished, I need to get serious.
First, there are a few things that I won't pack.
I'll purchase hay at the show certainly. It's time for a new bottle of Vanodine, so I won't need to take any with me. I want to purchase a couple of Standards of Perfection – I keep misplacing mine. I'll have to make sure that I have a shopping list with me. I can't believe that I'll only purchase three items!
I have a dog kennel which my carriers fit inside. I am hoping to put my risers, which I have yet to cut out, under the carriers. We'll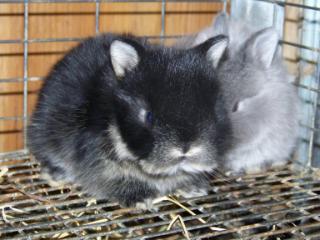 see how that works. There's room in a large suitcase for them, being the flat types, but that strategy wouldn't work on the way home when they are well seasoned with bunny.
I've purchased hay cubes, have Pedialyte to "water" my bunnies with upon arrival, and have counted out individual bags to put their feed in (I'll pack the bags with "water" and feed in case their kennel does not arrive with me, along with instructions for feeding).
I have one large suitcase that is dedicated to bunny stuff.
I have a rolling crate that folds up neatly. This will be used to tote around my feed, water, and such as I make my rounds to the various coops. Speaking of coops, I have my little decoration for each coop that will help me find my furry babies much easier. Since we are going to the Lone Star State (my home state, by the way), I've made stars for the coops.
There's a plastic bag with grooming supplies: brushes, comb, nail clippers, and stain remover. There's another bag with office supplies: spiral bound note cards, markers, pens, tape, and so forth. I have another bag with my contact information to put on each coop. After last Convention, when several rabbits were injured due to running youth and the fear of a strange hat walking down the aisle, I want to be sure that I can be contacted 24 hours per day if one of my rabbits is injured.
My hay cubes for the return flight are in that suitcase, too. I'll put some feed in there as soon as I buy my next batch in the next few days. That way, it will be as fresh as that being fed at home. I can't hope to take enough feed to last all week, but I do hope to take enough to last until Monday morning. I'm also packing my supplement of choice, which is Sunshine.
I'll also be taking probiotic, dehydrated fruit, baby gas drops, and other remedies for common problems.
Although I will touch up all of my tattoos, I'll take tattoo equipment (probably just a non-electric pen) just in case something is not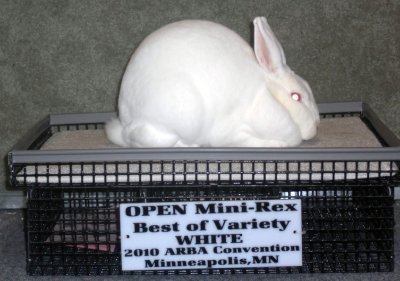 readable along the way. Having nice tattoos doesn't so much affect the judging, since coop numbers are clearly written in the opposite ear, but it can make check-out go more smoothly.
Then there's puppy pads for the carriers and vinyl gloves to make the chore of changing them more pleasant for me. I always buy a new mini dustpan and broom, which I will dispose of rather than bring home. I'm trying to figure out how to get a plastic bucket there to put used feed, water, and shavings in. I guess I'll figure out something.
Then there's my item for donation to the banquet auction.
I'm also making an abbreviated pedigree book with duplicates only, to take with me. I won't risk losing legs, certificates, and so forth, but I'll have my information there in case I need it. I know who all of my seniors are out of, but I often need to look up my juniors. If one does well, I'll be planning breedings before I get home from Convention, you can be sure! Plus, I will have sold at least one bunny, so I want to make sure I have his pedigree. And, that will be a great place to keep my directions to the banquet, hotel confirmation information, check-in sheets, and all of the other nice paperwork that comes with Convention. I'll also take my catalog, so I can remember where and when meetings are being held.
I'll have aprons and towels, baby wipes and spare plastic bags, my grooming shelf and business cards, a spray bottle for mixing up Vanodine and locks with keys. Zip ties. You can never have enough. Also a new lint roller, which will come in handy should I ever actually want to leave the showroom and go somewhere else.
I'll also need to pack snacks for me as it seems that I seldom get away from the showroom during the day. And, this year, Halloween candy is definitely called for.
I always hope I don't need it, but I'll also take a first-aid kit with me.
Now it's your turn to help me. What have I forgotten?