By Laurie Stroupe
The fall show season is around the corner and ARBA Convention sales are already in full swing. There's so much excitement about rabbits floating in the air. I'm excited. I hope you are.
Rabbit sales will be brisk for the next couple of months.
And sadly, some sales will turn out to be very disappointing. Here are a few things to think about while you shop for new bunnies.
Beware the high pressure sales person. Watch out for breeders who say that you must decide now because another person will snatch the bunny from under your nose. If the rabbit is fairly priced for its quality, the breeder will feel comfortable and confident in allowing you time to think about the purchase and time to get a second opinion on the rabbit.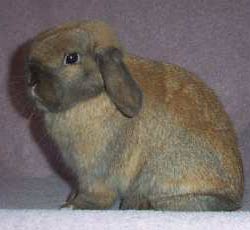 I have written to people interested in a rabbit to say that I need an answer because there are several people interested in a particular rabbit. Cage space issues and upcoming show/delivery arrangements may add their own pressure to the situation. But the timeframe for a response is reasonable. While you can't expect a breeder to wait an indeterminate amount of time, you should be able to ask for a day or two to think things over. And you should definitely be able to get a judge or other breeder to evaluate the rabbit without the seller standing over you.
Sales at a show may not allow a lot of time to think, but you should be able to ask for an hour or so and a second opinion. If you think about it all show long and then say "no," the breeder may have lost a unique opportunity to sell the rabbit.
Another type of sales person I'll call the "Consultant." Do not become too comfortable with a consultant-type sales person. These rabbit sellers provide a lot of assistance and information. They don't use pressure and give you a reasonable amount of time to make up your mind. They answer your questions to the best of their knowledge. You may become so comfortable with them that you forget to conduct a pre-purchase rabbit exam. Or you forget to ask specifically about refund policies and such. Or, you may think that their opinion of a rabbit is gospel. But the Holland lop standard is sufficiently complex that no one person has the corner on the market when it comes to evaluating them.
I've had people tell me that they didn't check the gender or the teeth of the rabbit they bought from me because they trusted my judgment. Although I would never sell a buck as a doe on purpose, I've made that error. So just because a sales person is knowledgeable and/or trustworthy doesn't let you off the hook for being a good buyer.
Beware of buying rabbits over the internet.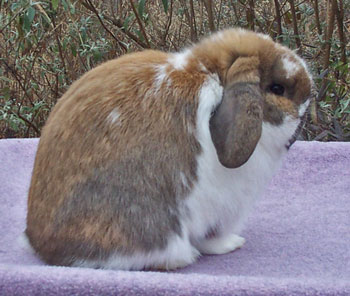 I know you are laughing at me for that one. First of all, make sure that the photos are clear and show both the side and front of the rabbit. Angled shots can hide faults. But the most important thing is that you should be able to get all of your money back if the rabbit is not as described. Now you should not back out on a deal because you don't have room now in your barn or you've decided to buy something else. That's not dealing in good faith. But if the rabbit is described as having wide shoulders and they are narrow, the seller should cheerfully refund your money. Look for a written policy to that effect.
Don't let yourself become dazzled by the "Big Names" of the breed.
All breeders, no matter how successful they are, have better and lesser quality rabbits. It is certainly advisable to look for rabbits to purchase within a fairly narrow gene pool (unless you are ready to outcross for vigor or for a characteristic missing from the gene pool you are working with). But do not pay big bucks for a rabbit unless that rabbit is really worth it. Walking away, shaking the stars from your eyes, and getting an opinion from a breeder you trust is like money in the bank. You can save a bundle.
I would like to make a note about spending big bucks. I have purchased a couple of $300 + bucks that were well worth the money, but the vast majority of the rabbits that produced the rabbits that have been showing well for me this year were priced between $75 and $150. My two favorite rabbits in the barn cost about $75 -$100 each.
Avoid the scam artist. One way to avoid scammers is to deal with people you know or people that you have been referred to by people you trust. When buying from a breeder far away, monitor the breeder's website for a period of time to see how they operate. Ask for references if you are still unsure. The rabbit world is a small place. Word gets around when a breeder doesn't replace rabbits with bad teeth or refuses to give a refund. You can also "Google" a breeder to make sure he or she is actively involved in the ARBA community.
Don't forget to check out youth breeders when you are interested in buying.
Especially at Convention, their aisles may be separated from open coops. Follow the same guidelines for youth breeders as with open.
I love the excitement of bringing home a new bunny and all of the potential it adds to my barn. Have fun and avoid the pitfalls.
Happy Buying!