By Laurie Stroupe
It's that time of year when I receive telephone calls frequently and my email is filled with requests for rabbits. I dread it.
First of all, selling rabbits is not my favorite activity. I am first and foremost a breeder.
Oh, I love it when I can share a very nice rabbit with a friend or help someone get started off on a good foot. But let's face it, it's really rare when you can let a grand champion go (I've sold a total of 15 grand champions in my career) or have the perfect trio on hand and ready to go just when someone wants to start out in Hollands.
What I really dislike is the unrealistic expectations.
I had an established breeder call me once and talk for quite some time. As we talked, I began to feel that what she wanted was Java or May or Padme. Let me be clear about something: if I get a rabbit like Java or May or Padme again, I'm keeping it. That's why I breed. To produce rabbits for me to show.
Folks also want to buy a rabbit from me that will place in the top ten at Convention. Again, if I produce a rabbit that I think can do that, he or she is staying in my herd.
There seems to be a pervasive feeling that if an exhibitor does well on the tables, especially at a national show, then all of the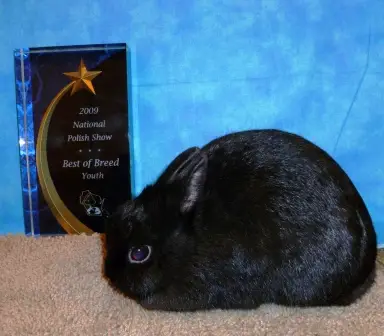 rabbits by that exhibitor are of the same quality. I doubt that is true. Those rabbits on the table are the cream of the crop.
I would say that if an exhibitor does well consistently and the pedigrees show tight breeding, then you may be able to get some pieces from that exhibitor that are worth working with. That's a more realistic expectation.
Sure, breeders do sell rabbits that win Best In Show for other people. Folks have sold rabbits that turned out to be top lops. Perhaps they knew what they were selling at the time, but I expect they were just sleepers, surprising the seller and buyer alike.
I expect that a lot of rabbit buyers are like speculators.
 They are looking for that vein of gold that will help them strike it rich. That strategy is expensive and not guaranteed to work.
I got a call from a breeder re-entering Hollands after a number of years. He's having a hard time getting his hands on really good stock to start with. For the most part, you can't just knock on a top breeder's door and purchase their top quality stock, especially around Convention time.
You might be able to make an appointment to go to their barns in the summer, when sales are generally slow and barns are more full. That's a great strategy.
But don't be surprised that top breeders have a long list of friends and colleagues who get first pick of their best rabbits. And, of course, don't be surprised if a top breeder won't sell their best sale rabbits to folks in their own area. I do, but I figure that if I can't stay one step ahead of the folks I sell to, then I'm doing something wrong and need to make an adjustment. I like helping to raise the general quality of Hollands in my area anyway.
I've written about this before, but let me repeat again that the rabbits that have helped my barn the most cost between $75 and $150. It's not always the $300 rabbit that is the best addition to your barn, especially if you are more interested in producing rabbits of your own than showing someone else's bunnies.
Shopping for pieces, parts, and complementary rabbits is a great strategy. Buying a good bunny that has the part you need is often better than buying a great bunny with the same fault you already struggle with.
What do you need in your barn?
When folks ask me whether they should buy this bunny or that, I always ask the same question. What do you need in your barn?
I was asked to evaluate a rabbit for a breeder who was thinking of buying from a judge who breeds Hollands. I asked to evaluate the rabbit out of the presence of the seller, which is always a good practice. There's no sense in giving your opinion if you can't be frank. I looked very briefly at the rabbit but asked the question, "What do you need in your barn?"
To me, if you don't know the answer to that question, you don't need to be shopping for rabbits. Perhaps you are hoping to luck up and get Mr. or Ms. Perfect. I hope you get it, but I don't think that's a realistic expectation.
So, I bet you can guess which kinds of customers I like the best. Yes, it's the ones who write and say, "I'm trying to shorten up shoulders," or "I need more texture to the ears." I don't mind those who are looking for a well-matched trio. Those customers, I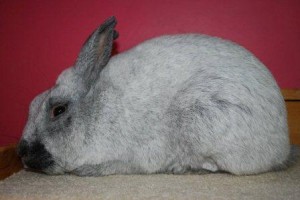 might be able to help.
But please don't write me and ask for a rabbit like Rio. That rabbit is not for sale.