New Rabbit Supply website just launched!
We have your rabbit supply needs covered at PremiumRabbits.com!  We've got the essentials in cages, carriers, drop trays, cage stands, nest boxes, feeding and watering equipment, as well as valuable accessories such as EZ-mats, harnesses, cage card holders, and much more.  Visit PremiumRabbits.com to see our selection.
Cyber Monday (Week) Sale!
Our #1 selling rabbit book is currently on sale for almost half off.  Learn more at this link: Get the Practical Guide to Rabbit Color Genetics at a great discount!
Affordable Graphic Design Services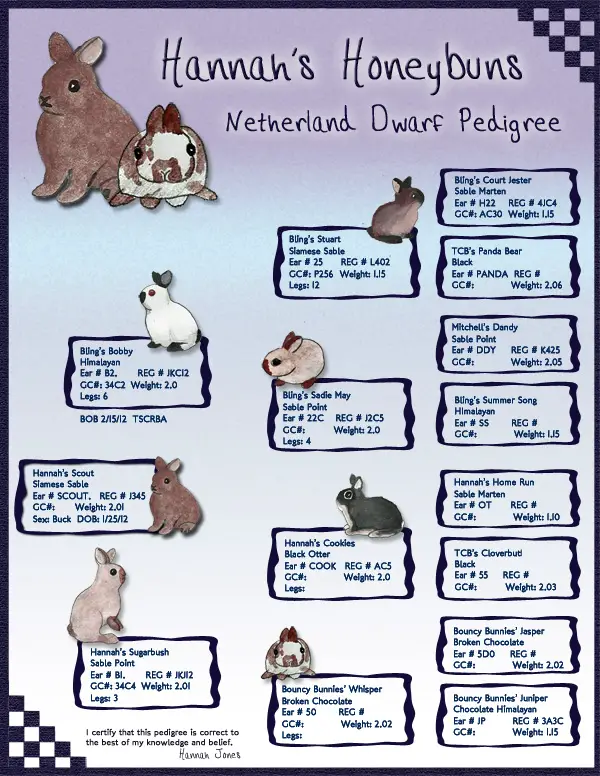 How do you like the design of this website?  Does your own need a makeover?   Feel free to e-mail me to talk about how I can help you with your website or graphic design needs!  I am happy to work with you until we find just what you are looking for.  From snazzy business cards or banners to functional websites, your satisfaction is my pleasure.  Lots more info and samples here.
 Logos
Animations
Pedigrees
Website Design and Updates
Website Makeovers
Business Cards
Flyers and Ads
You name it!
Natural Rabbit Food

We absolutely recommend Sherwood Forest brand food for your rabbit.  Developed by a long-time rabbit breeder and nutritionist, Sherwood Forest Natural Rabbit Food is a product specially formulated to match the needs of rabbits at each stage of their lives.  There are three separate varieties: Lactating and Growing, Maintenance and Show, and Pregnant. Each feed emphasizes the nutritional components that are essential during that stage.  
Learn more!
Rabbit and Guinea Pig Resource Books
Click to visit the checkout page.
You may see other websites selling these books, but here you are buying straight from the author and publisher.  For more information about the author, visit this page.
Click A Cover
Title and Information

Rabbit Smarties: The Giant Rabbit Activity Book! Specially developed for serious rabbit exhibitors and 4-H project members, Rabbit Smarties includes 115+ activities with a rabbit theme. It's necessary to have a fair understanding of rabbit raising practices and show standards to complete some of the word searches, crossword puzzles, picture games, and other puzzles in this popular publication. This makes Rabbit Smarties has become a widely-used study aid for 4-H clubs and ARBA royalty participants. However, Rabbit Smarties can be a fun and instructive way for any rabbit lover to pass the time!

68 Pages. Full Color. $15.00 Click the cover for more information and sample pages!

"What a wonderful piece of work!"

–Aggie Mowry, 4-H leader in Washington State.

 

The Youth Rabbit Project Study Guide. Revised for 2011.  Our bestselling book so far, this guide is written to help young 4-H and ARBA members succeed with their rabbit project. The Study Guide is rich in advice on rabbit care, health, showing, and breeding, and includes expert study tips for contests like 4-H showmanship and ARBA royalty. Designed to be a 4-H rabbit leader's aid, the pages may be reproduced for use in a club setting. Includes an abundance of charts and color photos.

72 pages. Full Color. $20.00 Click the cover for more information and sample pages!

"The Rabbit Smarties book and the Youth Rabbit Project Study Guide have both been an extraordinary help to me in studying for competitions… The explanations are easy to understand and the books are very well written.  Through the helpful information in these books I was better prepared for the ARBA Royalty contests."

–Miranda T. of Daydreamin' Rabbitry, 2011 & 2010 ARBA Duchess and 2008 ARBA princess

 

A book About Bunny Colors. At last! Here's a practical breeder's guide to understanding coat color genetics in a way that can quickly help you in your breeding. Application-based explanations teach you how to anticipate the outcomes of your litters, identify unknown varieties, develop a color breeding program, eliminate color faults, and much more! Relaxed language, at-a-glance charts and 80+ color photos make grasping the mysteries of coat color genetics seem not so hard after all.

64 Pages. Full Color. $20.00 Click the cover for more information and sample pages!

 

 

Cavy Savvy 2-in-1: Study Guide and Activity Book. Modeled after our two bestselling rabbit publications, Cavy Savvy 2-in-1 is a combination study guide and activity book all about guinea pigs. The study guide section includes advice from successful breeders on purchasing, showing, grooming, breeding, and caring for cavies. Many of the activities in section 2 help enforce the knowledge from the study guide; others, like "Cavy in the Navy" are just for having a fun time. Cavy Savvy 2-in-1 is ideal for both the novice guinea pig owner and for youth studying for ARBA royalty contests. Includes an abundance of color photos. 60 pages. Full Color. $20.00 Click the cover for more information and sample pages!

 

Bunny Smarties. This book contains 70+ activities to please and puzzle the young and old. Includes bunny-themed word searches, mazes, crossword puzzles, word scrambles, coloring pages, and picture games help you learn about rabbits. Suitable for classrooms, gifts, and novice rabbit owners. Includes color photos and answer key. 48 pages. Full Color. $12.00

 

Raising Rabbits 101.  If you are looking to find a book which will help get started raising rabbits immediately, this is the book for you. Raising Rabbits 101 was written to help the newbie rabbit enthusiast get started "raising rabbits the right way" and ultimately achieve success with their rabbit project. The book is 173 pages long and contains all the information that you will need to begin successfully raising and breeding rabbits. Full Color Edition – available in print for $28/book.
Thank you!