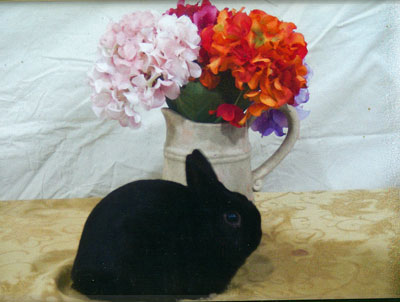 National-Winning Polish Rabbit

Breed: Polish
Showroom Variety/Group: Black
Registration Variety: Black
Legs: 3
Best Show Results: BOSV 2009 Polish National Show, Best Opposite Sex of Breed, 8th Place 2008 ARBA convention
SireGC Ellyn's Irate Pirate BP
Dam: Drew's Phlox
Breeder: Ellyn of SilverStar Polish Rabbitry
Evaluating this Black Polish Rabbit

Baxter is one special little guy. Not only can he make a great show rabbit, but he has one of the most friendly personalities ever given to a bunny. Baxter was never shown extensively, but he easily picked up a few legs and a BOSV at the Polish National Show.

Baxter's strengths are his short, full head and body. Do you see how his body seems fairly equal in depth and length, as well as being well-rounded? That's what you look for in a Polish. Baxter has a cute head, maybe a touch on the too blocky / dwarfy side, but not too much. He has ears that are a nice length to balance, nice and thick, and they stand erect like they should. Baxter has a nice coat and dense black color — when he's not molting. One of his biggest faults is a number of scattered white hairs in the ears only. In fact, the judge at the 2009 Polish national show said he would have been BOS if not for those white hairs.

Baxter took a while to grow into his full-bodied type. As you can see from his junior pics, in the beginning his head was quite narrow, but the nicely shaped body was already there. His sire looked horrible as a junior, but grew to win BOB at the ARBA national convention! It just goes to show that you need to give some lines a chance to grow.

Baxter is one of my favorite rabbits ever. When I would go out to the barn, I'd let Baxter out of his cage and we'd go jogging together. Everywhere I went, he would follow! You can see some pictures below of him running after me. Then while I did the chores, Baxter would run around the yard for hours at a time. If ever I wondered where he was, I would just call his name and pretty soon he'd appear!

Baxter has had several nice babies, including GC Rustic's Forego, a broken chocolate Polish buck with 18 legs. His sire is GC Ellyn's Irate Pirate BP, who won Best of Breed at the 2010 ARBA national show. His mother's father is Drew's Liberty, a buck with 21 legs.