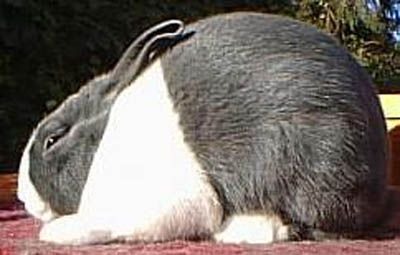 Grand Champion Blue Dutch


Breed: Dutch
Showroom Variety: Blue
Registration Variety: Blue
Sire: Double Dutch's Bentley (Blue- RGC/6 legs)
Dam: Jill's Wild Blue Venus (Blue- Reg)
Legs: 20
Best Show Results: 3 Best in Shows, 1 Reserve in Show
Breeder: Sarah Cleavenger of Double Dutch Rabbitry
Evaluating this Blue Dutch Rabbit

If you showed Dutch in the northwest, beating Stryker might have been your goal. This buck picked up 20 grand champion legs and three Best in Show wins. He's only ten weeks old in the featured photo. In many breeds, 8 weeks is too young to pick your winners, but because Dutch markings are visible from birth, Stryker showed promise from the very beginning.

You can't see all his markings from the photo, but you can see that his cheeks are very well rounded, and the saddle (the dividing line on the body) is nice and straight: not wavy, ragged, or dragged. In Dutch, the body should be about 1/3 white and 2/3 colored. Stryker also shows nice blue color and nice balanced body type. You can learn more about judging Dutch Rabbits at the Double Dutch Rabbitry Dutch Rabbit Markings Page and Dutch Rabbit Body Type.