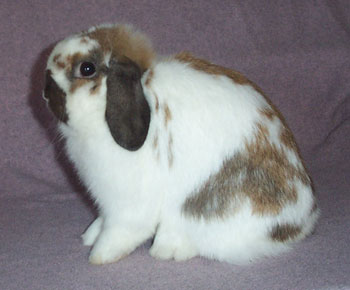 Grand Champion Holland Lop Doe
Breed: Holland Lop
Showroom Variety/Group: Broken Pattern
Registration Variety: Broken Black Tortoise
Sire: GC The Nature Trail's Rio
Dam: GC The Nature Trail's May
Legs: 5
Best Show Results: 5th place, Solid Senior Doe, ARBA National Convention, 2007;  BOB
Breeder: Laurie Stroupe of the Nature Trail Rabbitry
Evaluating this Grand Champion Holland Lop

These are the words of Hope's breeder, Laurie of the Nature Trail Rabbitry:

Hope could not have been more aptly named. During the summer of 2007, my barn suffered a major epidemic. I lost 55 rabbits. Losing Panache in the epidemic was the biggest loss of all. But near the end of the epidemic, I noticed that Hope was getting better and better – and looking more like her half sister Panache all of the time. She gave me hope for the future of my barn in the middle of a catastrophe.

In October 2007, Hope came in 5th place at Convention when dam May came in first. The year before Panache had placed 5th while May placed third. How I would love to have both Panache and Hope, but at least I have Hope.

I just couldn't get the picture of Hope that I'd like. She put her head back – which does show off those Rio-cheeks, but hides her nice crown.

She's has the best bone of a doe in my barn.  That's also Rio.  From May, she got the beautiful hindquarter and good density to her fur.  Once again, she can't really be appreciated without putting your hands on her.

Hope is a massive, massive doe. I thought I'd better weigh her before we went to her first senior show. So I wasn't surprised when the judge weighed her. What surprised both of us was that she's just a little over 3.00! That's one thing I love in a Holland – a rabbit that projects a size much larger than he or she actually is.