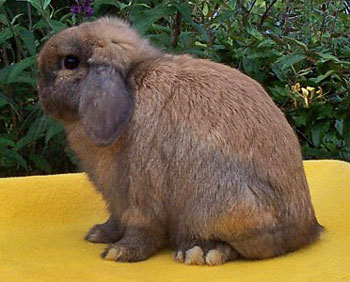 Grand Champion Holland Lop Rabbit
Breed: Holland Lop
Showroom Variety/Group: Solid Pattern
Registration Variety: Black Tortoise
Legs: 4
Best Show Results: Best of Breed Winner
Evaluating this Tortoise Holland Lop

Boris is a fine example of a show-quality Holland Lop. One of his standout qualities is a nice round shape to his head, which one judge described as "what a Holland is supposed to be." He has good width between the eyes. He has "teaspoon" ears that are short, round at the tips, and hang open. He has a nice topline with good depth at the shoulder rounding down to full hindquarters.

But Boris didn't always look so good! His breeder, Laurie Stroupe, said that Boris was very ugly as a baby. "There's just no way around that. I thought clearly his litter was a litter of pets. But one by one, they shaped up and turned out to be quite a nice litter. Boris was the pick of his litter. …I'm beginning to breed Boris now. And you had better believe I'm keeping his kits until they make it through the ugly stage."

Laurie had the right idea with keeping Boris' kits. He is the sire of GC The Nature Trail's Java and GC The Nature Trail's Leo , both accomplished Grand Champions.