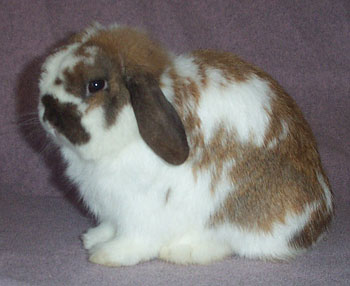 Grand Champion Holland Lop Rabbit
Breed: Holland Lop
Showroom Variety/Group: Broken Pattern
Registration Variety: Broken Black Tortoise
Sire: GC Camelot's Merlin
Dam: GC The Nature Trail's Roxie
Legs: 12
Best Show Results: Best Opposite Sex of Breed
Breeder: Laurie Stroupe of The Nature Trail Rabbitry
Evaluating this Grand Champion Holland Lop

I like Crazy Horse quite a bit — and so do judges. He has a lot of mass, but is really a tiny buck registered at under 3 pounds! He's got a big head, fantastic straight topline rounding down to well-filled lower hindquarters. He has good depth at the shoulder and at the hip.

Her breeder, Laurie, offers these comments about Crazy Horse:

The Nature Trail's Crazy Horse caught my eye early. I know, it was that adorable pattern on his face that did it, but also it was that short, short muzzle.

He's a little tiny guy, 2.14 at registration, so I figured it would take a long time for him to hit his stride. But he granded before his first birthday at about ten months of age.

He reminds me a lot of his dad Merlin with the short, fat bone and short body. I think he has a very nice Holland look.

Although he only earned one leg as a junior, he did get lots of very nice comments. When Cindy Wickizer judged him, she was quite effusive and predicted great things for him later on.