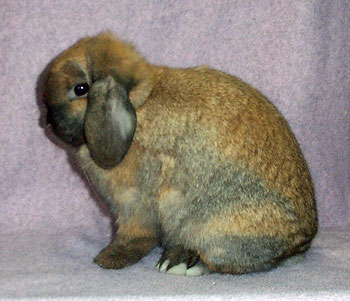 Grand Champion Holland Lop Doe
Breed: Holland Lop
Showroom Variety/Group: Solid
Registration Variety: Black Tortoise
Sire: GC The Nature Trail's Lord
Dam: GC The Nature Trail's Hilary
Legs: 3
Best Show Results: BOS
Breeder: Laurie Stroupe of the Nature Trail Rabbitry
Evaluating this Grand Champion Holland Lop

Fabrizia had a litter in the nest box at the time of these pictures, but looks good anyway! She has a nicely rounded head and short, open ears with good depth and a full loin.

Her breeder says that Fabrizia is proving to be a really worthwhile doe. She hit the show table with a solid impact and kept going. By the way, "Fabrizia," is a town in Italy. It is also a very rare female first name.