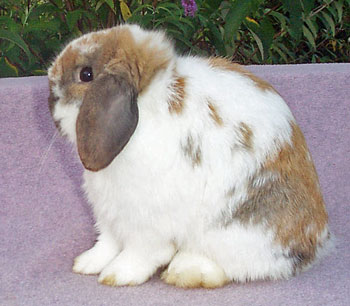 Grand Champion Holland Lop Rabbit
Breed: Holland Lop
Showroom Variety/Group: Broken Pattern
Registration Variety: Broken Black Tortoise
Sire: GC Camelot's Merlin
Dam: GC The Nature Trail's May
Legs: 8
Best Show Results: Best Opposite Sex of Breed
Breeder: Laurie Stroupe of The Nature Trail Rabbitry
Evaluating this Grand Champion Holland Lop

Imagination's breeder, Laurie Stroupe, offers these comments about Imagination:

I love Imagination's depth over the hindquarter. I like to see that depth to be almost equal to the shoulders, as stated in our standard. I really dislike sloping hindquarters.

The Nature Trail's Imagination is part of a three-buck litter of nice show bunnies. He was the first to be shown. His brothers, a solid tort named Prince William and a sable point named Fiddlesticks. Imagination, Fiddlesticks, and Prince William were the first rabbits I named after the name limit was raised by ARBA for registrations. I celebrated with three polysyllabic names! Before that time, I had to stick with seven letters or end up abbreviating the name.