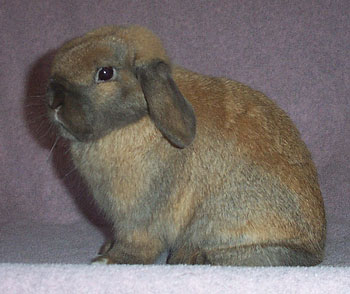 Grand Champion Holland Lop Rabbit
Breed: Holland Lop
Showroom Variety/Group: Solid Pattern
Registration Variety: Black Tortoiseshell
Sire: GC The Nature Trail's Lord
Dam: GC The Nature Trail's Padme
Legs: 7
Best Show Results: Best of Breed
Breeder: Laurie Stroupe of The Nature Trail Rabbitry
Evaluating this Grand Champion Holland Lop

What a pretty little bunny! The Nature Trail's Jamillia has a very nicely shaped head with good width, especially for a doe. She has nice crown height and definition, though it could have a little more front-to-back width so those ears would hang more openly. Jamillia could use a touch more depth over the hips, at least judging by these pictures, but she has a nicely shaped body, good full hindquarters, and good bone.

Her breeder, Laurie, has this to say about Jamillia:

Jamillia is part of my most successful litter since her grandmother May and three sisters Hilary, Purdy, and Jewel were born in one litter. Brother Padawan has already granded at just 6 months, 10 days old. Sister Jocasta has three junior legs.

Jamillia was my first third generation The Nature Trail's grand champion. I am so pleased that my all-grand-champion project has progressed another generation.