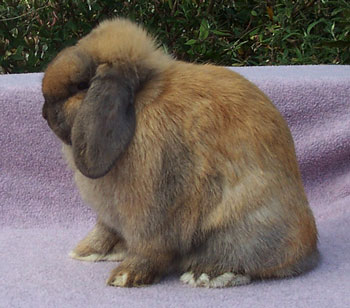 Grand Champion Holland Lop Rabbit
Breed: Holland Lop
Showroom Variety/Group: Solid Pattern
Registration Variety: Black Tortoiseshell
Sire: GC The Nature Trail's Lord
Dam: GC The Nature Trail's Padme
Legs: 3
Best Show Results: 3rd place solid senior doe, 2007 ARBA convention.
Breeder: Laurie Stroupe of The Nature Trail Rabbitry
Evaluating and Judging this Quality Holland Lop

Another beautiful young holland! The Nature Trail's Jocacsta has a beautiful "crown." On Holland Lops, the crown is the puff of fur and cartilage on top of the head that holds the ears down. Jocasta has good crown placement, right behind the eye. She has good "definition" to the crown, meaning that it doesn't just blend into the head. She has nice height to the crown, nice front-to-back width that helps the ears hang openly, and nice side-to-side width that makes sure the ears hang down. Jocasta has a beautiful short body with a nice topline and a full hindquarter.

Her breeder, Laurie, has this to say about Jocasta:

Jocasta is exactly what I was looking for our of one of my favorite does, Padme. She hit the show table at just 3 1/2 months and brought back a leg her first time out. When these pictures were taken, she had just collected two more legs at four months of age.

Jocasta is a littermate to GC The Nature Trail's Padawan and GC The Nature Trail's Jamillia.