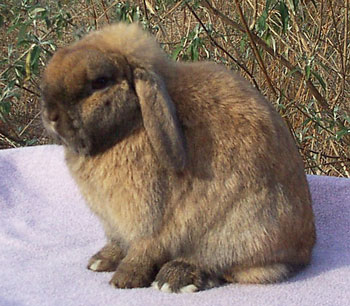 Grand Champion Tortoise Holland Lop Rabbit
Breed: Holland Lop
Showroom Variety/Group: Solid Pattern
Registration Variety: Black Tortoise
Legs: 10
Best Show Results: 5th place solid senior doe at Nationals 2006, Best of Breed.
Breeder: Laurie Stroupe of The Nature Trail Rabbitry
Evaluating this Grand Champion Holland Lop

GC The Nature Trail's Jo-Jo is a massive doe with a chunky head, excellent bone, and a good short, full body.

Her breeder, Laurie, has this to say about Jo-Jo:

Jo-Jo looked promising from very near the beginning, winning a Best Opposite Sex of Breed very early on. She and her sister Nikki went back and forth doing better on the table. I opted to take Nikki to Convention, but wish now that I had taken Jo-Jo.

Jo-Jo has a massive look that belies her 3.05 size. I love her chunky crown and full body. Her bone is much better than her sister's.

Jo-Jo is the mother of GC The Nature Trail's Quinten and The Nature Trail's Millicent.