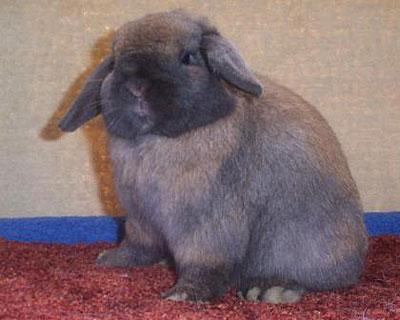 Grand Champion Holland Lop Rabbit
Breed: Holland Lop
Showroom Variety/Group: Solid Pattern
Registration Variety: Black Tortoise
Legs: 3
Best Show Results: BOSG, 2nd place at day-after HL nationals
Breeder: Laurie Stroupe
Evaluating this Holland Lop Buck

Laforge has wonderful body type. His body is short and very deep. His topline is excellent: it continues from the shoulders to the top of the hips and rounds down nicely. He has a well-filled chest and a good bold head. Lafore's biggest fault is "ear control" or a tight crown. This means that he has trouble keeping his ears down. If a Holland can't keep his ears below horizontal, it's a disqualification — but Laforge's problem isn't serious enough for that. He became a grand champion at only nine months of age.

His breeder, Laurie Stroupe, has this to say about Laforge:

LaForge was in the pet cage until he was 4 1/2 months old. Luckily, I made one last check before petting him out. He changed dramatically in the period of just two weeks. And all for the good! His later development was a huge lesson for me. Since "finding" him in the pet group, I've found several others who have blossomed at that age and even later.

LaForge has an incredible body. It's a joy to feel and look at. He has nice depth over the hindquarter and is silky smooth.

LaForge has a beautiful sister, GC The Nature Trail's Brook. They are my favorite two from their litter, but the balance of the litter of six was also very good. Boy, would I love to have the one back that I petted out too early!

LaForge has a cute personality. He's also very easy to photograph. I think it's because he looks good at all angles! LaForge was retired to my daughter, Lydia's room as a pet.