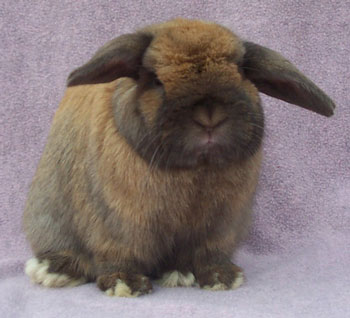 Grand Champion Holland Lop Buck
Breed: Holland Lop
Showroom Variety/Group: Solid
Registration Variety: Black Tortoise
Sire: GC The Nature Trail's Boris
Dam: Saynora's Katee
Legs: 4
Best Show Results: BOB, 3rd place at Nationals 2006, 2nd place Day After Nationals 2006
Breeder: Laurie Stroupe of the Nature Trail Rabbitry
Evaluating this Grand Champion Holland Lop

That's what I call a buck head, and he's only a junior in the top photo! Leo is showing ear control in this picture caused by a "tight" crown, but as you can see by the photos at the right, his crown relaxed as a senior and he was able to keep his ears down.

These are the words of his breeder, Laurie of the Nature Trail Rabbitry:

Leo is out of GC The Nature Trail's Boris and Saynora's Katee. Since Katee had worked well with Boris' father GC LL Brendan, I had hoped that this breeding with his son would also be a success. In fact, I think the breeding was even better.

Leo hit the show table running. He placed well in most shows that he was entered in. His first show under Paul Kyle earned him a Best of Breed. Unfortunately, he was a little past prime at Nationals, but his full body, beautiful top line, and nice head got him up to third place. His second place award under Todd Naragon the day after confirmed his success at Nationals.

The love the width between the eyes, the full cheeks, the ear textures, bone, shoulders, and hindquarters on Leo. As a junior, his crown was a tiny bit tight and his nosey, curious personality showed it off to its worst advantage! He doesn't really seem to know what calm and relaxed is.

I knew, though that other male members of his family had much tighter crowns that relaxed, so I didn't worry about Leo's. In fact, his crown has relaxed just fine now. He still struggles with a molty coat.

Leo is the littermate to GC The Nature Trail's Java.