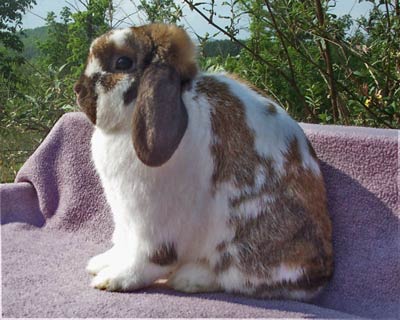 Successful Holland Lop Rabbit

Breed: Holland Lop
Showroom Variety/Group: Broken Pattern
Registration Variety: Broken Black Tortoise
Sire: GC The Nature Trail's Java
Dam: GC The Nature Trail's Lexus
Legs: 13
Best Show Results: 2 Best in Show Wins; 5th place Fur at ARBA National Convention, 2007
Breeder: Laurie Stroupe of The Nature Trail Rabbitry
Evaluating this Successful Holland Lop

Laurie was very proud of her buck, Lex. Here's her take on him:

The Nature Trail's Lex was one of those kits that looked so promising very early on. It was just a matter of waiting for him to be old enough to show. He earned six junior legs, including one Best In Show and then granded just three weeks after turning senior. By age one, he had ten legs.

His best attributes are wonderful depth, a great body, fat cheeks, and a beautiful coat. Since he's so young, he's just starting to get his head growth in these photos. He's very high strung which can really hurt him on the show table. I'd like to see him settle down and not stretch up so high. Plus some judges just won't put up with his nonsense. I'm afraid that's a family trait as Java was the exact same way.