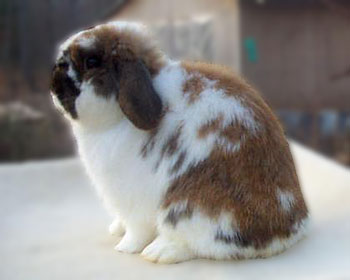 Grand Champion Holland Lop Rabbit
Breed: Holland Lop
Showroom Variety/Group: Broken Pattern
Registration Variety: Broken Tortoise
Sire: GC Camelot's Caesar
Legs: 13
Best Show Results: BOB
Breeder: Camelot Rabbitry; lived most of his life with Laurie at the Nature Trail.
Evaluating this Broken Holland Lop

These are Laurie's words about one of her foundation sires, Merlin:

I don't think this fellow takes a bad picture. I had dozens to choose from! He's got a massive head, wonderful hindquarter (when he's eating well) and great fur. Even stretching up to see something afar, he shows those stumpy legs of his. He has outstanding bone. I love his curvature, which is spoiled a tiny bit right now by some nibbling neighbor. Even so, you can see the round head. A broad chest and nice cheeks around out this marvelous fellow.

Merlin showed very well for me. But what I like best about him is that he's produced some outstanding offspring.

He produced four daughters in one litter that were all keepers. His best daughter is GC The Nature Trail's May. Merlin and May granded in the same show! In fact, another daughter of his from a different litter took her class in that show as well.

Merlin has produced consistently wonderful offspring. His children include May, Hilary, Jewel, MLK,  Purdy,  Myrddin, Navaro, Q, Bliss, Wizard, Markie, and more! Seven (7) of his offspring and 8 of his grandchildren have already granded.