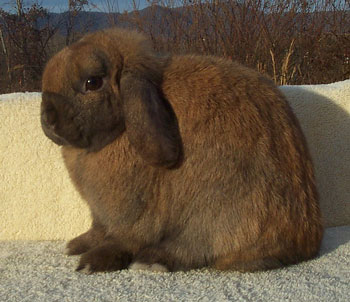 Show Quality Holland Lop Rabbit
Breed: Holland Lop
Showroom Variety/Group: Solid Pattern
Registration Variety: Black Tortoise
Sire: GC The Nature Trail's Franz
Dam: GC The Nature Trail's Jo-Jo
Legs: 2
Best Show Results: 4th place out of 161 at Convention 2006
Breeder: Laurie Stroupe of The Nature Trail Rabbitry
Evaluating this Show Quality Holland Lop

GC The Nature Trail's Millicent is a fine example of a show quality Holland Lop. She has a pretty nice head and ear, though the crown is "slipped", meaning placed too far back on the head. Still, she has nice width and fair definition to the crown. Millicent has very nice depth at the shoulders and the hip, and good rich color. Millicent's top-five placement at the ARBA Convention is quite impressive.

Millicent is a litter mate to GC The Nature Trail's Quinten.