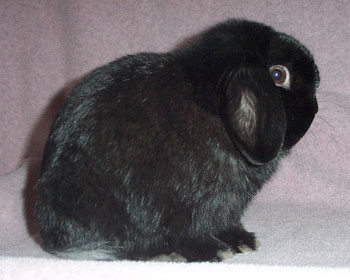 Grand Champion Holland Lop Buck
Breed: Holland Lop
Showroom Variety/Group: Solid Pattern
Registration Variety: Black
Sire: GC Camelot's Merlin
Dam: GC The Nature Trail's Roxie
Legs: 4
Best Show Results: Best Opposite Sex of Breed
Breeder: Laurie Stroupe of the Nature Trail Rabbitry
Evaluating this Grand Champion Holland Lop

MLK's breeder, Laurie, says that MLK "is one of those slow maturing bucks that is well worth the wait. His head just grows and grows. He's a small boy, registered at just 3.03, but he projects a full body and round head with adorable ear that completes the package." She often mentioned that black is her favorite color of bunny.

Laurie tells this story about how MLK helped her learn not to underestimate her rabbits:

At a recent show, I did let the tough competition psyche me out. It was a day of show entry and I had brought along MLK, one of my favorite bucks. He's a small fellow and it takes the right kind of judge to appreciate a balanced buck. So I chickened out and didn't enter him. After the show, I asked judge Todd Naragon to take a look at him. He checked him over and said, "You didn't show this one, did you?" When I said that I hadn't, his reply was one word in a playful tone: "Idiot!" It was the nicest thing anyone had said to me all day!

But I had done MLK a disservice by thinking that he didn't have a chance against such elite competition.

MLK is a full brother to GC The Nature Trail's Crazy Horse.