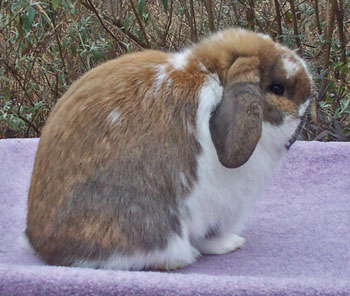 Grand Champion Holland Lop Rabbit
Breed: Holland Lop
Showroom Variety/Group: Broken Pattern
Registration Variety: Broken Tortoise
Legs: 4
Best Show Results: BOG
Sire: GC The Nature Trail's Rio
Dam: GC The Nature Trail's May
Breeder: Laurie Stroupe
Evaluating this Broken Holland Lop

Ox looks big in these pictures, but he's actually a small rabbit that projects a big, massive image. Ox has a fantastic head for a Holland Lop, large, bold, and correctly shaped. One judge commended that if she could judge on the head alone, Ox would be the easy winner. He has a good length of ear and nice short shoulders. He's very round over the hips and looks full in the hindquarter. His broken pattern is pretty heavy, the Standard of Perfection for Holland Lops does not disqualify for over 50% color, as it does for some breeds. In some ways, his pattern is rather attractive, don't you think?

Ox took a while to grow up and look nice, but he only gets better with age.