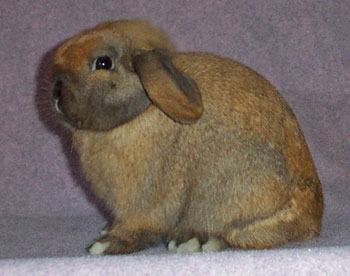 Grand Champion Holland Lop Rabbit

Breed: Holland Lop
Showroom Variety/Group: Solid Pattern
Registration Variety: Black Tortoiseshell
Sire: GC The Nature Trail's Lord
Dam: GC The Nature Trail's Padme
Legs: 5
Best Show Results: Best Reserve in Show
Breeder: Laurie Stroupe of The Nature Trail Rabbitry
Evaluating and Judging this Holland Lop
Only one picture of this little buck but wow, what a looker!  Take a look at that topline: it's just what you want in a Holland. When you are judging Holland Lops, the topline should extend out horizontally from the head with no visible neck. The topline should continue straight to the hips and then round down to well-filled hindquarters, like you see on Padawan.  I would fault him on crown placement — it's too far back on the head, and lacks a little height, but that's about all.   He also has a very nice shape to his head and very good ear length.
These are Laurie's words about Padawan:
The Nature Trail's Padawan makes my heart go pitter-pat every time I see him. He's a gorgeous little buck that projects a huge image. A wonderful, very promising head, cheeks, cute ears, wonderful depth carried back appropriately over the hindquarter, and a full body make him my dream come true.
So far, he is the closest thing to my understanding of what a Holland is. I couldn't be more pleased with him.
Like Jocasta and Jamillia, Padawan has two parents and four grandparents that are The Nature Trail's grand champions. Jamillia was my first third generation grand champion with Padawan following a couple of hours later. Padawan granded at just 6 months, 10 days old.

l