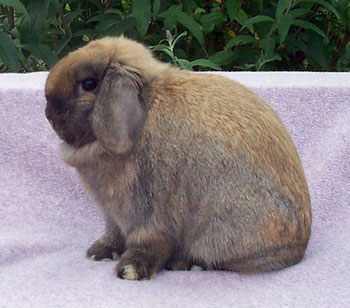 Grand Champion Holland Lop Rabbit
Breed: Holland Lop
Showroom Variety/Group: Solid Pattern
Registration Variety: Black Tortoise
Legs: 10
Best Show Results: 17th of 87 at ARBA Convention 2006, Best of Breed Winner
Sire: GC The Nature Trail's Rio
Dam: GC The Nature Trail's May
Breeder: Laurie Stroupe of the Nature Trail Rabbitry
Evaluating and Judging this Tortoise Holland Lop

Wow, what a bunny! Padme is a beautiful doe, with tiny teaspoon ears, a wonderfully round head and a solid, compact, well-rounded body.

Her breeder, Laurie Stroupe, has this to say about Padme:

Breeding two grand champions together doesn't always yield something good. But in this case, I struck it rich! I felt the parents, Rio and May, were physically compatible. Also, both Rio and May have dams from the same lines. I hoped they would be genetically compatible as well.

The litter didn't look overly promising in the beginning. There were seven kits. One was tiny; I assumed it was a peanut and it died within the first few days. Of the six remaining, three were fuzzy Charlies. Talk about going against the odds! The only broken died. The buck was a false dwarf. But Padme was worth it all!

By the time she was three months old, she was already showing some signs of promise. It was her bad luck that I didn't show during the month of May. So she'll only have two weekends of showing as a junior. Luckily, she made the most of her first one, winning two Best Opposite Sex awards under knowledgeable Holland judges against some very nice competition.

Padme granded very quickly. Then she was put into production. She did have a live kit her first time out, but none of my does had milk and it died. I decided to take her to Convention, even though she had started to molt slightly on her head. By the time she was judged, she was sitting in a full ring of molted fur! Oh well. She still did darn well.

Her next litter either caused Padme a problem or coincided with a problem. She went off feed for a few days, so I fostered her litter. Within a week or so, it appeared to be nothing and she was back to herself and fit. The next time I bred her, she was able to care for the litter herself.

She produced a beautiful doe – The Nature Trail's Jocasta – and a promising buck – The Nature Trail's Padawan – in her first surviving litter.