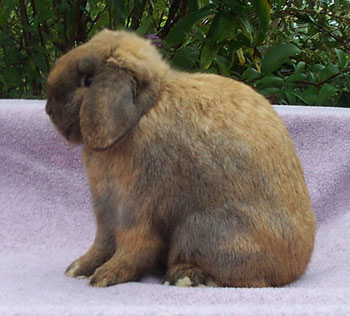 Quality Holland Lop Rabbit
Breed: Holland Lop
Showroom Variety/Group: Solid Pattern
Registration Variety: Black Tortoise
Sire: GC Camelot's Merlin
Dam: GC The Nature Trail's May
Legs: 3
Breeder: Laurie Stroupe of The Nature Trail Rabbitry
Evaluating this Quality Holland Lop

Prince William is only 5 months old in these pictures. As you see, he's molting into his senior coat. He's lacking some development to his head, but that will come with time. Prince William has a good length and shape of ear. He's showing a nice short body with excellent depth.

The Nature Trail's Prince William is part of a three-buck litter of nice show bunnies. GC The Nature Trail's Imagination is his littermate.