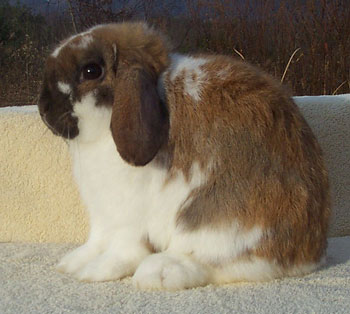 Grand Champion Holland Lop Rabbit
Breed: Holland Lop
Showroom Variety/Group: Broken Pattern
Registration Variety: Broken Black Tortoise
Sire: GC The Nature Trail's Franz
Dam: GC The Nature Trail's Jo-Jo
Legs: 3
Best Show Results: 18th place at Convention 2006
Breeder: Laurie Stroupe of The Nature Trail Rabbitry
Evaluating this Grand Champion Holland Lop

GC The Nature Trail's Quinten is sure a cute little buck. He has a nice broad muzzle but could use a touch more width between the eyes to balance, but he's a young buck in these pictures and more development might come with age. Quinten has a very nice body with good strong shoulders and heavy bone. He has good side-to-side width to his crown.

His breeder, Laurie, has this to say about Quinten:

Quinten is one of those few Holland bucks that is able to grand at a very young age. In his case, he turned six months old on November 5 and granded on November 11. I'm not even sure why I took him to the show – I think he was a last minute substitute for Rio, who was out of condition.

Quinten is part of a very nice litter, which includes Millicent and Mistoffelees. Millicent was 4th at Convention out of 161 solid junior does. Quinten and his siblings, which includes Isolde from a later litter, are the product of half-sibling inbreeding. I am not using Quinten to line breed. Yes, very tight breeding is risky, but when you are rewarded, it is often in a big way.