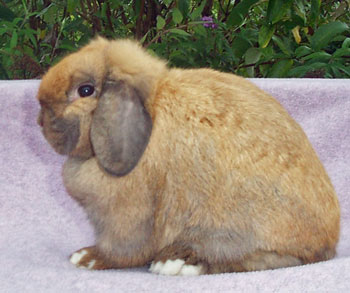 Show Quality Holland Lop Rabbit
Breed: Holland Lop
Showroom Variety/Group: Solid Pattern
Registration Variety: Black Tortoise
Legs: 1
Best Show Results: Best Opposite Sex of Breed
Sire: The Nature Trail's Q
Dam:The Nature Trail's Spice
Evaluating this Show Quality Holland Lop

Suzy Q has a wonderful head, good width between the eyes, full cheeks, a nice crown, thick ears that lay open, good shoulders and a full hindquarter. I like her bone. I would fault her mainly in a little bit of loin length.

There were three show quality rabbits in her litter. Laurie sold her father "Q" after only breeding him once. Apparently that was enough! Both Suzy Q's mother Spice and her father Q are out of GC Camelot's Merlin.