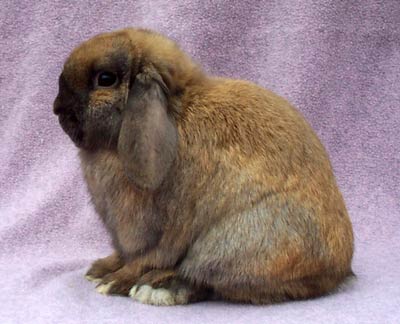 Grand Champion Rabbit




Breed: Holland Lop
Showroom Variety/Group: Solid Pattern
Registration Variety: Black Tortoise
Legs: 19
Best Show Results: Class win at 2006 HL National Show,
5 Best in Shows, 1 Reserve in Show, 1 Best 4 Class, 10 Best of Breed wins
Sire: GC The Nature Trail's Boris
Dam: Saynora's Katee
Breeder:Laurie Stroupe
Evaluating this Holland Lop Buck

GC The Nature Trail's Java had an incredible show career. He's not quite correctly posed in this photo, but still you can see his short body type and well-filled hindquarters that helped him rack up 5 Best in Shows! From the front view you can see his broad head, short thick legs, and good wide crown.

His breeder, Laurie Stroupe, has this to say about Java:

he Nature Trail's Java walked in the shadow of his brother Leo until the chips were down and it was time to shine. Leo went into Nationals with three legs including a BOB to his name. Java had beaten Leo a couple of times, but had no legs to show for his nice placements.

On the morning of Nationals, I had a talk with Java (you talk to yours, don't you?) I told him that, while his brother Leo might be the better bunny, he, Java, was in prime condition and it was his day to shine. I just meant that I thought he would beat his brother. I had no idea that he would take the class!

Java won Best In Show in Columbia, SC, on April 22, 2006, under Judge David Kroenke! He was a senior of just six months of age at the time.

Java won his second Best in Show, again in Columbia, SC. This time on December 2, 2006, under Judge Roger Bustle. Java is now 14 months old and just about ready to start competing with the big boys on a regular basis.

Java earned his third Best In Show, in Cleveland, TN, in February, 2007.

Java was Best Reserve in Show at the NC State Convention on March 17, 2007, under judge Josh Humphries. Java won two Best in Shows the second day of the NC State Convention on March 18, 2007.

One time, I decided that since Java is having a bit of a good run on the table, it was time to update his photographs. So, I took him to The Nature Trail Jungle, and put him down on the show table. He immediately sprang into the air and landed some feet away, luckily in a bed of dying herbs and flowers. He sat there for a while and I thought I would have no problems picking him up. Then SPRING, he was off again. He ran to the edge of The Nature Trail pond and took a 5-foot leap. Unfortunately, it is a 6-foot pond. I screamed for help. My husband Andrew was outside working on a ladder. He came running. By the time I got to the other side of the pond, Java was out again and off running. Andrew was able to pick him up in the corner of the jungle. He had his head stuck in the fence. So, here the new picture I worked so hard to get. I hope you enjoy it.

Java won Best Four Class in Piketon, Ohio, on April 1, 2007. Java is also the sire of some very nice Grand Champion Holland Lops.