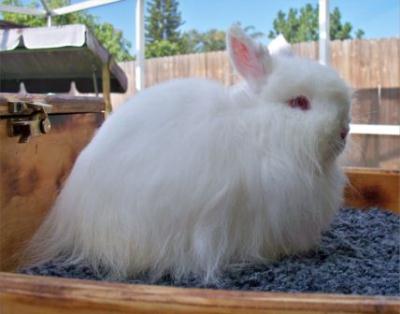 Grand Champion Jersey Wooly Rabbit
Breed: Jersey Wooly
Showroom Variety/Group: Self
Registration Variety: Ruby-eyed White
Legs: 10
Best Show Results: 7 BOB, 3 BOS, Honorable Mention at a local show during Best in Show judging.
Breeder: Tresia Burleson
Owner: Kristina Ruth of the Fuzzy Patch
About this Grand Champion Jersey Wooly

"Braden" has a good round head and body – see how it looks like a ball stuck on a ball?   He has nice long wool of good texture.  So far Brandon has picked up 10 Grand Champion legs, seven of which are for Best of Breed.  Here's the interesting story of how he came to live with Kristina in sunny Florida:

I had plans to pick up a Chinchilla Jersey Wooly buck at the 2010 ARBA Convention in Minnesota. That buck started developing teeth problems, so the breeder (not the breeder of my rabbit) brought her pick of that litter as a replacement. After judging, we found out that he had a split p. She then gave me the choice of all of the REW bucks she brought, I think they were all from another breeder, or at least mine was. I picked the best one, which turned out to be Brandon. Because of him, I have switched my focus to mainly Tan pattern, rather than Agouti which I had intended. He has impacted me more than any other rabbit I currently own.