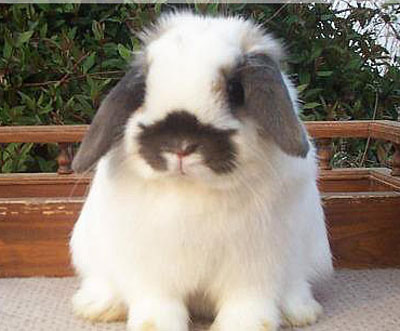 Grand Champion Rabbit


Breed: Holland Lop
Showroom Variety: Broken Pattern
Registration Variety: Broken Tortoise
Sire: GC Camelot's Merlin
Dam: Styles Stella
Legs: 10
Best Show Results: BOSG ARBA National Convention 2007,
3rd Place BSD out of 56 ARBA National Convention 2006,
7th Place BSD out of 73 shown ARBA National Convention 2005,
Best In Show Winner
Breeder:Laurie Stroupe
About this Holland Lop Doe

GC The Nature Trail's May was one of Laurie Stroupe's favorite and most famous bunnies. She had a very successful show career, winning a Best in Show and a BOSG at the ARBA convention. She was also an excellent mother, and could quickly come off a litter and win again. She has produced seven grand champions: Panache and Hope, and five more. When she was 3 years old she was retired to a pet home. Her junior picture, below, probably shows her type better than her senior one.  May is a full sister to GC The Nature Trail's Wizard, though from a different litter.


Her breeder, Laurie Stroupe, has this to say about May:

May's best qualities are her showy look-at-me pose and her ultra-smooth, full hindquarter. If I could change anything, I would give her wider shoulders and a wider crown. But she's got lovely bone, nice curvature, cute ears, and dense fur. I especially love the way she carries her depth back over the hindquarter. She's full to the table.

May is a false Charlie. Her mother is a solid, so she cannot be a genetic Charlie. Even though her pattern is light, it is sufficient to avoid any question of a DQ. She has a ribbon of color down her spine difficult to see in these pictures.

I began showing May at the tender age of 3 1/2 months. She was part of a litter of four nice broken does (May, Hilary, Purdy, and Jewel), but she was the standout. She and all three of her littermate sister weighed 3.00 lbs. when registered. It was a very good, very consistent litter, and they are pictured below. May won a BOS at that show and another shortly thereafter. Before she turned senior, she took another class for a third leg.

The day after she turned senior, she took two classes, but did not qualify for a leg (insufficient number of rabbits). At the next show, three weeks later, she came in second in show A. I was disappointed because I wanted to grand her and then keep her home to breed. But she came through in show B and granded at 6 months and 3 weeks old.

At age seven months and 5 days, she won Best In Show! It was my first Best In Show with a doe and my first Best In Show with a senior. I was so proud of her.

After 25 kits, May was still a show-worthy doe, winning a Best of Breed over her daughter Panache. Several weeks later, she was placed 3rd at Convention over her 5th place daughter Panache. Her junior daughter April was 16th out of 100! After 31 kits, she's still going strong; she beat her grand champion daughter Hope – twice – and won Best of Breed the second time on September 15, 2007. Her grand champion granddaughter took her class in the same show!

The height of May's career came at ARBA Nationals Convention 2007. She earned her 10th leg with a class win out of 100+ broken senior does and then went on to be BOSG, my first (and maybe my only) special at a national level show.

I was very pleased to learn that the BOG, shown by Roman and Mariola Kulesza, was out of a doe by Rio and May. So the brokens for Convention 2007 were May's grandson and May. How sweet is that!

That's my girl!

May is the bunny pictured in the banner of this website.