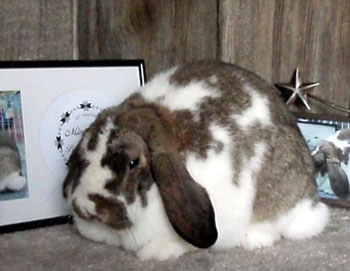 Grand Champion Mini Lop Rabbit


Breed: Mini Lop
Showroom Variety/Group: Broken Pattern
Registration Variety: Broken Chestnut
Sire: Jone's Quartz
Dam: DeSurra's Monterey Bay
Legs: ?
Best Show Results: Multiple Best in Show / Reserve in Show; 3rd Broken Senior Doe at Nationals 2011; 2nd Broken Senior Doe Day-after Nationals 2011…all before her first birthday!
Breeder: Lisa Davis of Milkhouse Lops
Evaluating this Chestnut Mini Lop Doe

Helen is an exceptional Mini Lop that has been tearing up the show tables. In the words of her breeder, "Her body is outstanding and I cannot fault her there at all. She also has a gorgeous coat of fur! To nit pick on her I would like to see a wider crown both in front to back width and side to side." Helen has a broad head, just like you want in a Mini Lop, and what a cute face pattern! Her shoulders start to rise right behind the crown like they should, and the topline climbs high before rounding over the hips. One judge described Helen by saying, "…this doe is as near perfection in roundness/fullness of the hindquarters as you can get!"

Helen has made her owner Lisa proud with multiple Best of Breed, Best in Show, and Reserve in Show wins, as well as top-five finishes at the 2011 Mini Lop National Show and Day-after National Show… all before reaching one year of age! Enjoy these pictures of Helen and her awards.