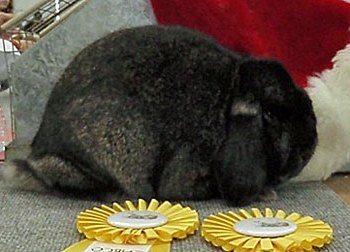 High Quality Mini Lop Rabbit
Breed: Mini Lop
Showroom Variety/Group: Solid Pattern
Registration Variety: Black Gold-tipped Steel
Legs: ?
Best Show Results: Multiple Best of Breed and Best Opposite of Breed Wins
Breeder: Lisa Davis of Milkhouse Lops
Evaluating this Successful Mini Lop Buck

With multiple BOV, BOB, and BOS wins under his belt, Milkhouse's Monroe is a Mini Lop to take a second look at. He has a chunky head and nice side-to-side width to his crown. He has strong shoulders and a correctly shaped topline with full hindquarters.