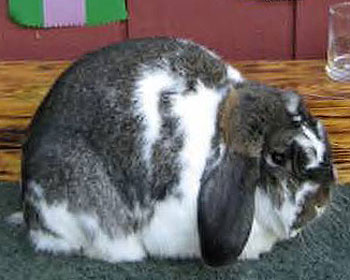 Grand Champion Mini Lop Rabbit

Breed: Mini Lop
Showroom Variety/Group: Broken Pattern
Registration Variety: Broken Chestnut
Sire: Kitsemble's Show Me the Money, B. Sable Chinchilla, R, 1 leg
Dam: Velotta's Kristie, Chestnut, RGC, 3 Legs
Legs: 34 and counting
Best Show Results: Best in Show; Mulitple BOB/BOS; Double 1st place at day-after nationals 2009; 2 top-three wins at ARBA Conventions; 2009-10 National Top Lop #10.
Breeder: Nicole Velotta of Velotta's Rabbitry
Evaluating this Top Quality Mini Lop Buck

Twitch has a very short, deep, and balanced body type. He has an excellent head, a well-placed broad crown and a nice ear. In the words of Nicole his breederL "He really has become a super star. I keep meaning to retire him from showing, but I don't have any other broken bucks, plus he keeps winning! He has an awesome personality!"

Twitch is a well-known Mini Lop with a show record a mile long. Even when he retires, it will continue to be written in his offspring. You can get the full details on Twitch at his breeder's website: Velotta's Rabbitry: Mini Lops in Oregon.