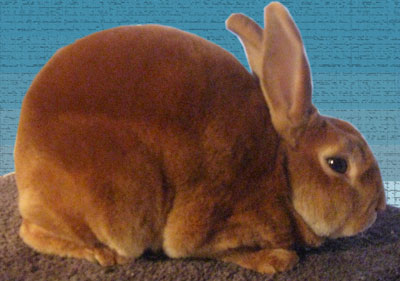 National-Winning Mini Rex Rabbit

Breed: Mini Rex
Showroom Variety/Group: Red
Registration Variety:Red
Legs: 3
Best Show Results: BOV Red @ 2010 Mini Rex Nationals Youth, as a junior buck.
Sire: GC Crimson's Romeo (Red, 15 Legs)
Dam: FFR's Alexis (Red, 3 Legs)
Breeder: Shyanna Chapman (SRC Rabbitry)
Owner: Hannah Tedlock (Bella's Rabbitry)
About this Red Mini Rex Buck

Kryptonite, also known as Krypt, is a lovely sweet little buck. He's strong in color and body, and has a gorgeous chunky head. His weak point is his ears, they are a tad long. But overall he is a very nice, well rounded boy! Kryptonite has had a very successful show career, winning numerous Best of Varieties and was Best of Variety Red at the 2010 Mini Rex Nationals (Youth) as a Junior.