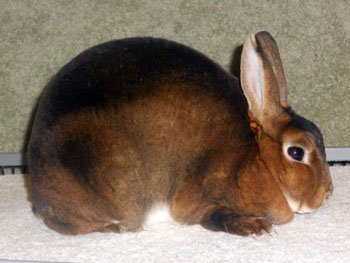 Grand Champion Mini Rex Rabbits
Breed: Mini Rex

Showroom Variety/Group: Castor
Registration Variety: Castor
Legs: 10+
Best Show Results: Two BIS and over 6 BOB wins
Breeder: Adam McCabe of McCabe's Rabbitry – Mini Rex and Polish in the Midwest
GC McCabe's Elli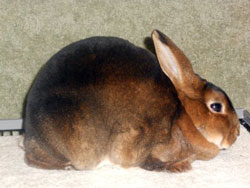 Breed: Mini Rex
Showroom Variety/Group: Castor
Registration Variety: Castor
Legs: 10
Best Show Results: Grand Champion
Breeder: Adam McCabe of McCabe's Rabbitry – Mini Rex and Polish in the Midwest
Judging and Evaluating these High Quality Castor Mini Rex
Mindi and Elli are a pair of beautiful Mini Rex show does bred by Judge Adam McCabe. Both does have a number of legs that reach double-digits.
Mindi has a nice head and ear, with excellent round body type. I might fault her for a touch of length in the shoulders. She has very nice castor color: bright and reddish with smooth color blending.
Because she's looking away from the camera, this picture may not show off Elli to her best advantage, but you can look closely and see her solid body type complete with a full hindquarter. Elli has excellent depth of body and nice fur. She looks a little flabby in this picture, but maybe it was taken after she became a proven mom. A very nice Mini Rex doe.