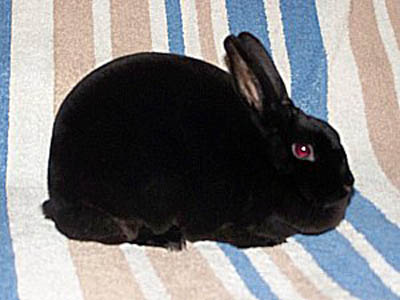 Grand Champion Mini Rex Rabbits
Breed: Mini Rex

Showroom Variety/Group: Black
Registration Variety: Black
Legs: 6
Best Show Results: Best in Show
Breeder: Adam McCabe of McCabe's Rabbitry Mini Rex
GC Hickory Hill's Mae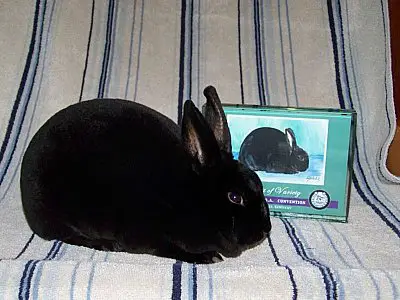 Breed: Mini Rex
Showroom Variety/Group: Black
Registration Variety: Black
Legs: 9
Best Show Results: BOV 2008 ARBA Convention; Best in Show, 2 Best 4 Class Wins, 2 reserve 4-class, and 5 BOB's all as a junior!!!
Breeder: Hickory Hills Rabbitry. Owner: Adam McCabe of McCabe's Rabbitry Mini Rex
Judging and Evaluating these High Quality Black Mini Rex
GC McCabe's Posh, featured in the top photo, has nicely balanced body type. Her body is well rounded throughout with plenty of depth and fullness: no sign of hips or pinbones! She has nice black color without stray scattered white hairs, and fur to spare.
The lower photos are of an incredible doe, GC Hickory Hill's Mae, owned by judge Adam of McCabe's Rabbitry. Mae is more relaxed in the photo above, but you can see her short, round, "basketball" type in the photo in the award. That's what you want your Mini Rex bodies to look like! Mae was Best Black Mini Rex at the 2008 ARBA convention in Louisville, Kentucky, and had numerous other top-of-show awards.