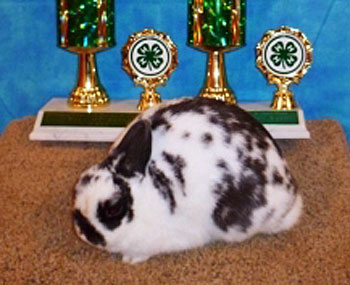 Grand Champion Broken Polish

Breed: Polish
Showroom Variety/Group: Broken
Registration Variety: Broken Blue
Legs: 10
Sire: GC Ellyn's Irate Pirate BP
Dam: Potter's Cherice
Best Show Results: Best 4-class at Michigan State 4-H show. 3rd place at Polish Nationals
Breeder: Tiffany Mccord of Rustic Rabbitry — Polish in Michigan
Evaluating this Broken Polish Rabbit

Definitely one of Cheyenne's strengths is her bold head. It's not too round and flat-faced, but nice and short with a broad forehead and tapering to the muzzle. She has good ears to match. Another strength is her very wide, full body. She could use a touch more depth to balance with it, though. She looks black in these photos, but really she has a very rich blue color, just what you want in a Polish. She has a nice even broken pattern, with not too much or too little color.

As a show doe, Cheyenne picked up ten legs and a Best 4 Class at the Michigan State 4-H show. She's now just starting to have babies.