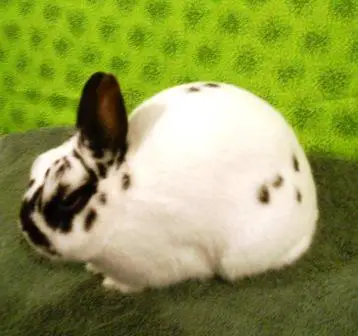 Grand Champion Broken Chocolate Polish

Breed: Polish
Showroom Variety/Group: Broken
Registration Variety: Broken Chocolate
Legs: 31+
Sire: Ellyn's Baxter, son of Irate Pirate BP
Dam: Drew's FD
Best Show Results: BOV 2011 ARBA convention, BOSV 2011 National Specialty, BOB and BOS wins, 2nd /4th/5th place at conventions/nationals.
Breeder: Tiffany Mccord of Rustic Rabbitry — Polish in Michigan
Evaluating this Broken Chocolate Polish Rabbit

Forego is something special.  Earning his 29th leg with an ARBA Convention BOV win in 2011, he picked up a BOB and a BOS at the next show against some stiff competition and keeps on going.  His breeder says he is the nicest rabbit she has produced yet.

Forego has a pretty nice head and good shape to the ears with a nice substance so they stand upright and touch all the way to the tips, which are desirable features in Polish.  His strongest point though is his body.  He has a nice round body, very short, with excellent depth.  He could be faulted for lacking a touch of fullness to the loin, but has a good lower hindquarter.