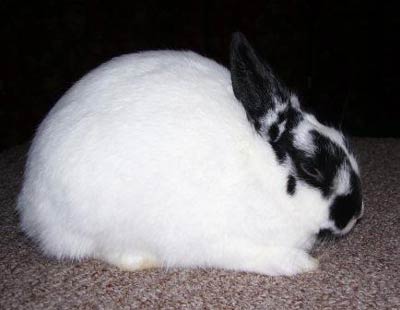 Grand Champion Polish Rabbit

Breed: Polish
Showroom Variety/Group: Broken
Registration Variety: Broken Black
Sire: Ellyn's Kingsley
Dam: Ellyn's Trillium
Legs: 12+
Best Show Results: Multiple BOV, BOSV, BOS
Breeder: Ellyn of SilverStar Polish Rabbitry. Now owned by Granite W.
Evaluating this Grand Champion

The doe in the top picture actually isn't Serenade: it's her mom, Trillium. Trillium was only shown once in her whole life…and won her class at the 2007 ARBA Convention. But Serenade proved the line with multiple BOV, BOSV, BOS, and best in class wins. Serenade and Trillium both have excellent depth of body with well-rounded hips and plenty of width and fullness. Serenade has a nicer head than her mom. In Serenade's picture at the right, she appears to have a head set too high on her shoulders, and "V" spread ear carriage. Both of these things are faults, but I think she was sitting funny for the picture. Serenade has a light broken pattern, but plenty of color to qualify for the 10% minimum.

Unlike her dam, Serenade was shown extensively by her breeder, winning a few legs and lots of second/third places. Her real time to shine came after moving in with Granite, where she picked up over a dozen legs. Serenade has proven to be a great mom herself. She has a beautiful broken doe sired by GC Rustic's Forego.