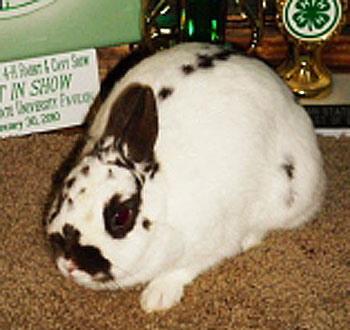 Grand Champion Broken Chocolate Polish



Breed: Polish
Showroom Variety/Group: Broken
Registration Variety: Broken Chocolate
Legs: 10
Sire: Drew's DB87
Dam: Drew's FD
Best Show Results: BOSV ARBA Convention 2011, BIS 2010 MI State 4-H show; 4th broken Jr. doe '09 Conv; 4th broken Sr. doe '10 Nationals
Breeder: Tiffany Mccord of Rustic Rabbitry — Polish in Michigan
Evaluating this Broken Chocolate Polish Rabbit

Sophi has an excellent head and ear that really can't be criticized. She is a very well-balanced doe. In the picture above, you can kind of see how her hindquarters are wider than her shoulders. This "taper to the shoulders" is a desirable trait in Polish, but not in Netherland Dwarfs. Her body is very well-rounded and she has a well-filled hindquarter. She is also a nice size for a show doe.

A gorgeous young senior, Sophi is Tiffany's first BIS winner. She granded at her first senior show with a BOB and honorable mention for 4-class. Her sire, DB87, was the foundation of Tiffany's line, and Sophi is one of his finest offspring. Sophi blew her coat right before nationals 2011, so was retired to breeding: but after kindling a litter she came back out for the ARBA convention in 2011 and won BOSV!  That's no small feat.

Sophi is a half-sister to Rustic's Forego, a buck with over 30 legs.