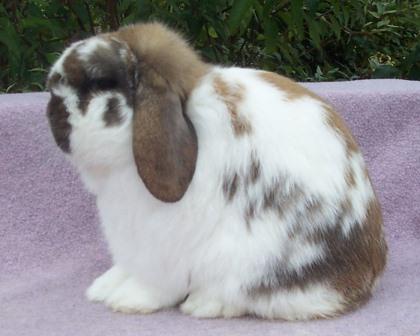 Grand Champion Rabbit



Breed: Holland Lop
Showroom Variety: Broken Pattern
Registration Variety: Broken Tortoise
Legs: 27
Best Show Results: First of 111 Senior bucks at ARBA convention, 3 Best In Shows, 3 Best Reserve in Shows, 13 Best of Breeds, BOSG at day-after-nationals show, "Best of the Best": Best of the BOB's at combined specialty shows. #11 on the Top Lop list for 2005-2006.
Breeder:Laurie Stroupe
Evaluating this Holland Lop Buck

GC The Nature Trail's Rio is a legendary rabbit. He has a win at the ARBA convention and day-after Holland Lop Nationals. He was a successful sire, and has a great personality. Rio is an excellent example of a Holland Lop. He has very nice massive head and the heavy bone you look for in Holland Lops — as you see by his thick stumpy legs. He has a very nice topline and well-filled hindquarters.

His breeder, Laurie Stroupe, has this to say about Rio:

Rio's most obvious strengths are his fat, fat cheeks and huge, short bone. He has nice depth over the hindquarter and is very smooth. He's a bit long in the shoulder, but given his strengths, I'll not complain about that. Many judges feel that he is able to balance the shoulders just fine, given his depth and width.

Rio was one of those kits that looked promising from the very beginning. I just set him back in a cage to mature and almost forgot about him until the end of his time as a junior.

At his second show, he had a class win. I thought that he was living up to some of the earlier potential I had seen. But I failed to enter him in Nationals. Too bad.

At his third show, he got Best of Breed and went on to win Best In Show. I decided to take him to Nationals weekend. I hadn't even entered a broken junior buck, so I couldn't substitute him, but I could show him the day after Nationals, a large show with lots of competition from all over the country.

The day after nationals show in Columbus Ohio was very exciting. Rio moved up the table and took the broken junior buck class. I couldn't believe it. What's more, he beat out the broken senior bucks and was named Best Opposite Sex of Group. My pleasure in the moment was only marred by the thought of what could have been had I entered him the day before.

I learned that moment not to underestimate my rabbits.

That fall, Rio took his class at Convention. I had been running rabbits at other tables and stopped by the broken senior buck table during a break. I noticed they were almost finished. On my way back from my break, I swung by Rio's cage. He wasn't there. I hoped that he had gotten high enough to be in the top ten. So I went back by the broken senior buck table, just in time to see that they had finished and a group of people were walking off.

I joined the group and asked who won. I was told that they didn't know, but they were taking the rabbit back to his coop to see who the winner was. I had no idea that they knew and were giving each other looks behind my back. Halfway down the row, someone said that "he has a pink carnation on his coop." That's how I had marked my coops that year. I stopped in my tracks and my friend Denise Crafton confirmed that it was indeed Rio. All I could think was that I wished Andrew was there to share the moment with me.

I was so excited. I gave my camera to Denise. She had to tell me to stand next to Rio to get the picture. I was totally dazed and confused! All I could think about was capturing the moment in a picture. Thankfully, she was level-headed and got a very nice shot of Rio with me standing beside, bursting with pride.

In July of 2006, at the age of 20 months, Rio was able to beat an 83-leg rabbit for BOB twice in one show. And, he went on to win a BRIS. It means a lot to be able to compete occasionally with such a successful rabbit.

Want more Rio?  Check out the story of his ARBA convention win!