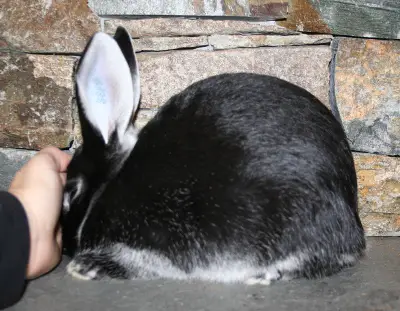 Grand Champion Black Silver Marten


Breed: Silver Marten
Showroom Variety: Black
Registration Variety: Black
Sire: Silver Streak's Pasha (Blue- RGC/6 legs)
Dam: Riddle's Flicka (Black- RGC/5 legs)
Legs: 19
Best Show Results: 1 Best in Show, 2 Reserve in Shows, 3rd place at ARBA Convention 2009
Breeder: Sarah Cleavenger &   Nicole Velotta of Silver Streak Rabbitry.
Evaluating this Black Silver Marten Rabbit

A Silver Marten should have commercial body type and fur, and Arson is a great example. He has a nice deep topline that rises smoothly from the shoulders, crests over the hips and follows through to a solid lower hindquarter. He's just a junior in the top picture and lacks a little fullness, but you can see how he rounded out nicely in the senior pictures at the right. Silver Martens should be of medium length, and Arson has a nice length of body that balances with his depth and with the length of the head and ear. He has good black color that contrasts well with his silver-white markings. A Silver Marten should have some scattered silver hairs around the markings, as you see in the photo, but they should not continue up over the back.

Arson is a top-notch Silver Marten buck with 19 legs, a 3rd place finish at the ARBA convention, and three BIS or RIS wins to prove his quality. But his fantastic show record isn't his only distinction: his breeder, Judge Sarah, described him as "the king of spazziness"!