Guidelines for Submission
In this gallery we love to feature photos and bios of bunnies that have proven their worth on the show table.  As you browse the gallery you will see many Best in Show winners, Reserve in Show winners, and even Best of Breed winners at national shows!  But a rabbit's success isn't the only qualification to be entered in the gallery: the photos of the rabbit must exemplify a bunny that is close to the standard.  They don't have to be perfect, but they have to be a good representation of what you should strive for in your breed.  So no matter how much your rabbit has won, if the photos don't show off the desired type and color, we will not include it in the gallery.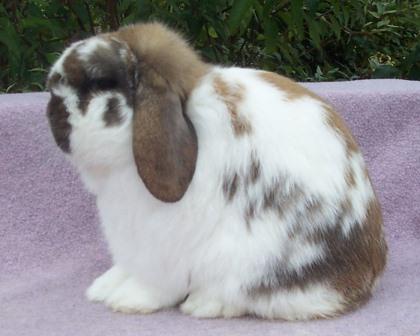 We welcome your submissions.  However, please read these guidelines carefully first.  Also, we are very selective as to what we feature in the gallery, so please don't be offended if we do not accept your submission.  We are not accepting Holland Lops at this time.
Requirements:
Rabbit must be of an ARBA recognized breed and variety and be free from disqualifications that are visible in the photographs.
Rabbit must have won at least 3 legs at an ARBA sanctioned show, with one being won as a senior, or have won a special at its breed national show or ARBA convention.  Registered grand champions strongly perfered.
Rabbits may only be submitted by the current owner.
The following photos must be included, at minimum:
>Photo of th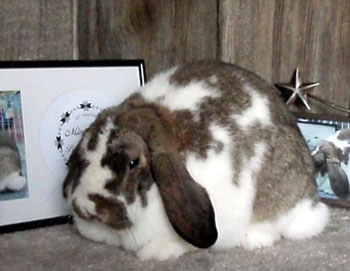 e rabbit in profile, correctly posed, showing good body type for the breed.  Hand over head is allowed in commercial and compact beeds except Netherland Dwarfs.  
> If the posed photo has a hand over the rabbit's head, also include a photo of the rabbit's head.
> One of more of the following photos may be included: top view, front view, hind view, photos illustrating markings, "cute" photo.  Owners and/or awards may be showin in photo.
Photos should be focused, well-lit, and centered.  Poorly-lit, washed out, blurry or otherwise poor quality photos may not be accepted.
All photos submitted must be resized to be between 350 and 600 pixels wide!

Publication of any photos or rabbit's information is entirely at our discretion and we reserve the right to refuse submissions for any reason.  No matter how good your rabbit is in real life, we will not accept any photos that do not convey high qualities for its breed and variety.  Thanks for understanding!
As the owner of the rabbit and the photos, you retain copyright of the photos, however by clicking "submit" you are granting permission to Rabbit Smarties Publishers to use the submitted photos on www.TheNatureTrail.com.'
Gallery of Champions Submission Form
[si-contact-form form='2′]