Contact Form Shortcode Error: Form 6 does not exist
Rabbit, Horse, Dog, and Small Business Websites and Marketing Materials
Your animal project is probably more than a hobby: it's a business. It may not pay for itself, but chances are that some sales are essential to its success. From the perspective of a rabbit breeder, I know how bunny sales can help with entry fees or the feed bill; more importantly, without selling rabbits you won't be able to breed more.
More than just a graphic designer, I enjoy using my business experience to help people learn how to effectively sell their animals or products, as well as provide attractive marketing materials.
Feel free to e-mail me to talk about how I can help you with your website or graphic design needs!  I am happy to work with you until we find just what you are looking for.  From snazzy business cards or banners to functional websites, your satisfaction is my pleasure. 
For a free quote, check out our design request form!  Typically, the first logo, business card, pedigree, or banner design for you is $30, and the next matching design is $10, and the next ones after that (excluding full web design) are $5 each. 
Graphic Design – Style You Can Afford
Business Card Design
A popular tool for getting your business to stick in people's memories–and their pockets!  We can use your photos and graphics or our own. 
Banner or Web Set Design – Animations Available
When we're helping you out with a design, we'll go back to the drawing board several times to make sure you're happy. 
Website Building, Maintenance, and/or Makeover
These days, a website is an important key to customers finding you quickly. Plus, it's a great way to showcase your hobbies and accomplishments. We offer attractive and affordable packages, whether you want to spruce up your current website or start from scratch.  Search engine optimization included.  Packages usually range from $75.00 – $250.00 depending on what you want done, who will update the site, and so on.
Check out these websites we've done:
"I thought the process of building the site went amazingly well! As a complete novice in the world of computers I had no idea what to suggest or ask or recommend, and didn't have a clue how we would figure it out between us from so far apart! Thanks to you asking the simple questions you asked to get us going and jumping in and creating a banner out of your own ideas to show me really helped to get me started…" – Karen of Pinewind Farm
"Ellyn did a great job creating my super cute website for a very reasonable price.  She was very helpful in getting me set up with my email and was instrumental in getting my name out there.  Within days of the website going live,  I had customers and sold rabbits right away.  I highly recommend her services."  -Cari of Red River Rabbitry
Website Design Inquiry Form – No obligation
Please note: We require up-front payment for pedigree, business card, logo, clothing, and banner designs.  You can use this form to ask us questions, but we will require up-front payment before we begin your project.  If you prefer just pay now and get your project started immediately, see the shopping cart form below.  We require a 50% deposit before beginning website design projects
Custom Designed Business Cards, Pedigrees, Logos, and Banners
The first of these items we do for you costs $30.  The second is $10 if it matches the first, and additional items are $5 each if they match the same design. 
Order a Pedigree, logo, banner, or business card design right now using this easy form:
Design Order Form
Here are some more design samples.
Custom Pedigrees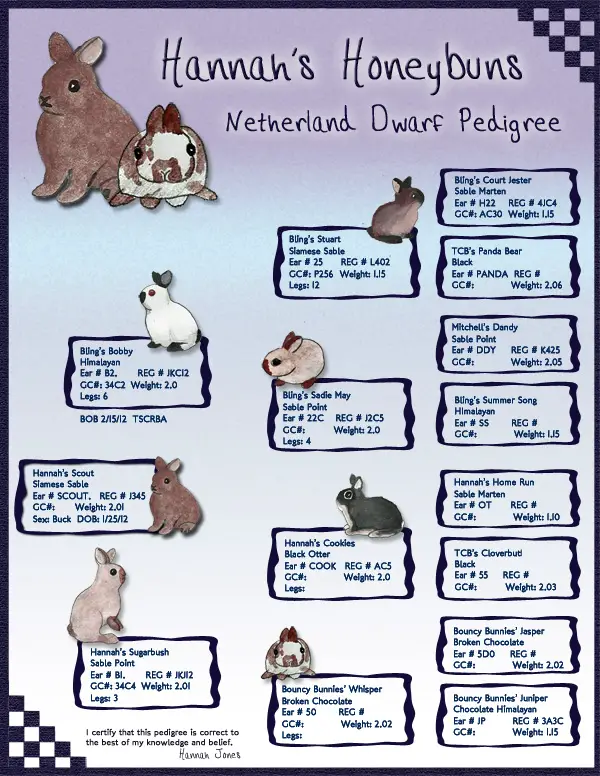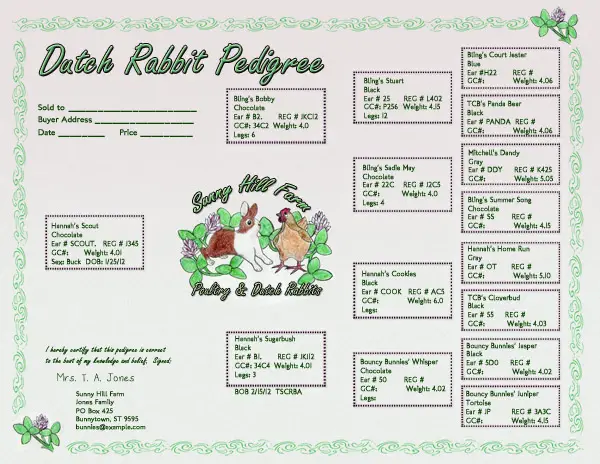 Banners I've done:

Business Cards I've done: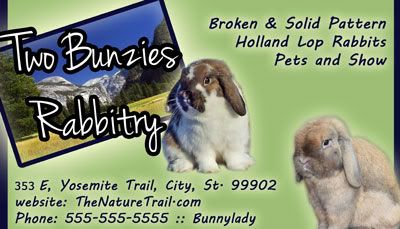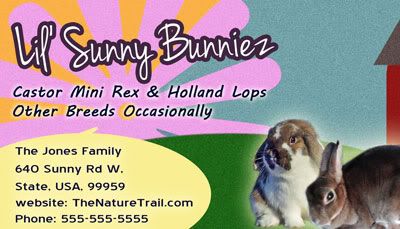 Websites I've done: 
Please email for custom packages and quotes.  Features include your own .com, free hosting, email @your domain, fully custom design, content writing, SEO, analytics and more.  Click a screenshot to visit that website.
Websites I've done:
 Logos We've Done: