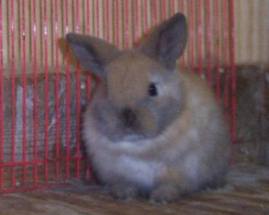 Please Note: This Page is Outdated.  The Nature Trail Rabbitry is no longer breeding Holland Lops.  However, you can reach a number of good Holland Lop Breeders through our Links Page.  Also, if you're looking for cute baby Holland Lop photos, you've come to the right place!  Check out our Funny-Bunny Blog.
This site has HUNDREDS of rabbit-information articles for you to explore.  Enjoy your stay!
---
 I am extremely proud of my Holland lop bucks.  I have produced several that have done very well on the show table.  Even though they are all young, they are already competing with the big boys.  When you check out my bucks' page, be sure to click on the name or photo for even more pictures of my guys.
 My first two grand champions are both does.  I could not be more pleased with them.  The Nature Trail's Mercedes was my first bunny to place at a national show!  My Holland lop does have won several BOS awards and even some BOBs over the senior bucks.  Just like with the guys, be sure to click on their names or pictures to see even more photos and get more information on them.
Often, there are stories behind the wins in a rabbit show.  On the My Favorite Wins page, I share some of my notable "firsts" and my favorite wins, both in story and with photos of the winning rabbits. 
Foundation Bucks and Foundation Does
Everybody's bunnies come from somewhere, and mine came from some of the best lines around.  On my foundation bucks and foundation does pages, you can see the sires, dams, grandsires and grand dams of my current herd.  Some have moved on to help other breeders and some are still here.  And a few will be in my rabbitry for a very long time, perhaps the rest of their lives!
My Holland Lops Living Elsewhere
I'd like to keep track of some of my favorite bunnies living with other breeders now.  So if you've purchased a bunny from me, born in my barn, that is doing well for you, let me know!  I'd love to post a picture and update on how he or she is doing.
Holland Lop Nursery
I breed all year round, so I have baby rabbits in my barn at all times.  Periodically, I take photos of the little gems.  For some of my earlier litters, I was able to follow their progress week by week.  Unfortunately the barn has grown too much to continue, but you can still see many baby rabbit pictures on my site.  Plus, you can often see the baby pictures for the Holland Lops for sale on my site.  And breeders may be interested to see how I'm pairing up my rabbits to create my future winners!
Holland Lops For Sale
I generally have pet rabbits for sale at all times.  I frequently have breeding quality Holland lops and occasionally have show quality Holland lops for sale.  I do not ship pets and cannot ship during the summer at all.  I will ship multiple purchases of breeding or show quality Holland lops.  I also maintain a notification list for anyone who would like to be notified when I have new rabbits for sale.