Breeding Holland Lops And Other Rabbit Breeds – A 20-part series by Laurie Stroupe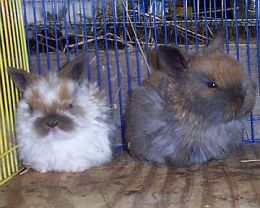 Once you've read all of these pages, you will know why I am amused at  folks who find out I'm a rabbit breeder and ask, "Don't they just breed themselves?"  I can't tell you how many times I've heard it.
There's a lot to breeding rabbits responsibly including planning, record keeping, management, and problem solving.  Although there's nothing overly difficult about raising rabbits, it is important to have a good general understanding before you begin.
As with all areas of raising and showing Hollands, I continue to learn new things all of the time.  New problems arise and are solved.  New challenges present themselves constantly.  As I show and travel around the country talking with other breeders and listening to ARBA judges, I continue to increase my understanding of rabbit breeding and have more techniques and tools at my disposal.
Here's one reader's comment about this series:
I just had my first litter march 20th and I don't think I would have been anywhere near as prepared without the nature trail. From conception to weaning all the information I had been searching for was right there. It is defiantly at the top of my bookmarked sites and my most used reference. I never had the privelage to meet you but thank you so much Laurie!

— Brandon
 Ready to learn how to get healthy baby bunnies????