By Laurie Stroupe
When I went to the barn this morning, something seemed different, but I couldn't put my finger on it. Then it hit me, the fans were off. This morning was the first morning in a very long time that they were off because it had actually gotten cool enough during the night for them to automatically stop. I made a mental note to not let them scare me when they would suddenly turn on, but that didn't really work.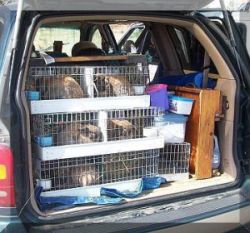 However it did make me think about autumn. The calendar says that fall is 26 days away, but my fall starts September 3, with the first of my fall rabbit shows. Starting then, I'll be showing five out of six weekends in a row and then have just two weeks to get ready for ARBA Convention.
So this weekend and the coming week are my last chances to get ready for fall at a leisurely pace. After that, it will start to get hectic. Here are a few things on my to-do list:
Have the car checked over.
Have the oil changed in the car. If you need to rotate tires or have a tune-up, now is the time.
Refill show supplies. 
Because I travel often, I keep a case of duplicate grooming items: toothpaste, toothbrush, comb, brush, etc. That way, I don't have to remember to pack my toothbrush at the last minute or unpack the car when I get home late after a show. So now is the time to check and refill anything that needs it. 
I take a plastic container full of rabbit supplies to every show. It has my apron, grooming towel, brush, stain remover, nail scissors, and much more in it. I keep those items in there at all times and have duplicates if I also use them in the barn. That way, I don't have to pack from scratch for each show. This next week, I'll make sure that the aprons are clean, the bottles of stain remover and such are filled and the knick knacks that accumulate in there are cleaned out.
Make a list of supplies to order for pick up at Convention.
I need to make a list of supplies to bring home from ARBA Convention. I plan to buy some wire to build cages. With delivery charges the way they are, I want to capitalize on the opportunity to transport certain things home. Show Bloom will be on my list,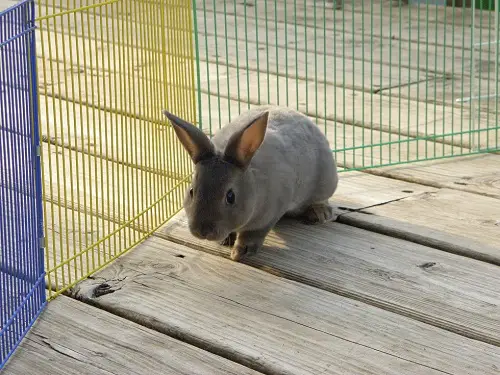 too. For large orders and unusual items, you'll need to order them ahead of time.
Request show catalogs.
I need to make sure that I've requested catalogs for each show that I plan to go to, if I didn't go last year. Maybe I'll even get around to putting deadlines for entries on my calendar. Nah! That would take away part of the excitement of living on the edge!
Plan ahead for winter. 
It is also time to make a list of everything I need to purchase or do before winter. The next time I get a break in my show schedule, it will be Christmas. And then winter will be upon us. It is better to take a few minutes now to think ahead.
Most of all, I plan to spend some time in the yard, time with Andrew, and time with the kids, relaxing at home!