By Laurie Stroupe
Shipping costs will just eat your lunch on items such as wire for cage building, feed supplements like Show Bloom or Doc's Rabbit Enhancer. Give some thought to what you will need during the next six months. If you pre-order now, you can pick it up at ARBA Convention and save a bundle. Don't risk their running out or not having exactly what you are looking for. Let them know!
Have you ever looked through your Klubertanz, Bass, KW Cages or DaMars catalog and wondered what something really looked like or how it might work? Is it as sturdy as it looks? Does that book cover what I need to know?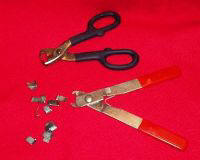 Do some catalog browsing now and mark the items you really want to take a closer look at while you are at Convention. Things can get hectic, so doing a little preparation work now will help you make the most of your time there.
You will regret getting home only to wish you had taken a look at something while you were there.
When you get to Convention, make sure you carve out some time to check out all of the vendors. Last year, I was able to watch a video that showed palpating. You never know what great tips you will pick up.