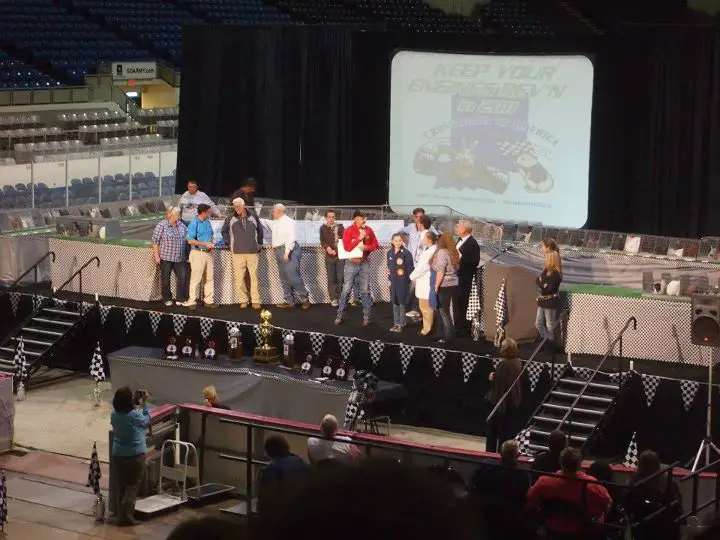 The ARBA Convention is the largest rabbit show in the world, showcasing as many as twenty thousand rabbits all in one building.  This year, it begins the last week in October in Wichita, Kansas.  Here's the convention website for more information: www.heartland2012.com
If you ever get a chance to go, please do, for a day or the whole week.  It's an unforgettable experience.  And if you are planning to enter the youth contests this year, be sure to check out my www.RabbitSmarties.com website, which includes lots of printable tips and activity sheets from my days competing in royalty, judging and breed ID.  If you have any questions about ARBA Royalty or other convention contests, feel free to  send me an email.

Is the chance to see 20,000 rabbits not enough reason to make the trip?  Even if you don't have anybunny to show, you should definitely make an ARBA Convention if you can.  It's an unforgettable experience, and here are a few reasons why.
~~ Creative Convention Coops.
Walk through the aisles at Convention and you'll notice rabbit cages decked out in many different styles.  The decor serves a purpose: how will you easily find your bunnies in the long rows? 

~~Packing for Convention
It's no fun to be unprepared!  Here's an extensive coverage of the things you'll need and some things you might want for a great convention experience
~~ Rabbit Sales — Buyer Beware
One of the most exciting things about convention is the chance to bring home new stock–but there are risks, too.  This is a must-read.
~~Realistic Expectations when Buying Rabbits
A top breeder isn't going to sell you his best show animals.  Keep this in mind, and you can still pick up some genes that will greatly benefit your herd.
~~Pre-order Convention Supplies for Pickup.
Just a helpful reminder that you can save on shipping costs by pre-ordering the supplies you need for your rabbitry, then picking them up from the dealers at convention.
Convention is filled with emotion.  Excitement, anxiety, surprises, new sights, new friends, opportunities to help someone in need.   It adds up to a lot of hugs.
A long week filled with travel, excitement, bunnies, people… it can be stressful, but proper courtesy makes things go a lot more smoothly.
Below: various convention pics from the past