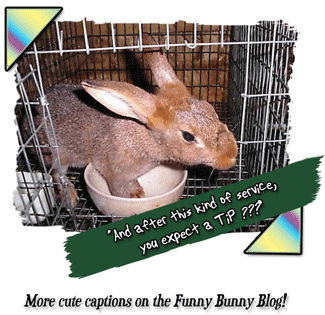 Welcome to the Nature Trail! Our goal is to provide show and pet rabbit owners with the information they need to succeed. The 300+ articles on this website are drawn from hands-on experience with both the pretty and the nitty-gritty sides of raising rabbits.
As a little history, the Nature Trail was originally a working rabbitry devoted to Holland Lops. Laurie, who owned the rabbitry, achieved national recognition with her bunnies (many of which you can see in the Gallery of Champions). In late 2003, Laurie launched www.TheNatureTrail.com to show off her bunnies and eventually to help others obtain reliable rabbit information.
The rabbitry closed in 2008, but the website has remained a popular resource for rabbit enthusiasts. Laurie passed the website on to me (Ellyn) in 2011, and now I'm excited to present to you the New Nature Trail: sporting a new look, new features, and more information than even before!
I'd like to thank Laurie for all the work she put into this website; Karen for sending me that certain e-mail; Shirley for helping me figure out some very important technical stuff; and the many other people who have contributed to this project.
I hope to continue to expand the Nature Trail. You can help by offering your comments and suggestions, and even submitting articles and photos for this website. I would like to include more information on various breeds of rabbits, and can always use good rabbit photos. Your rabbit care questions are welcome as well.
Rabbit Information Articles
And there's more! Have fun exploring!
Save
Save